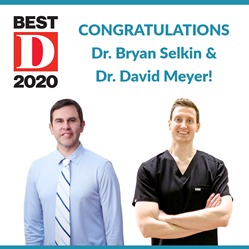 "I'm honored to be recognized as one of the Best Doctors in Dallas," said Dr. Selkin. "It is a pleasure to work with and collaborate with respected colleagues in the community for the benefit of mutual patients and I appreciate the trust they have placed in me."
PLANO, Texas (PRWEB) October 29, 2020
U.S. Dermatology Partners physicians, Dr. Bryan Selkin and Dr. David Meyer, are being recognized by their peers as Top Doctors in the December 2020 issue of D Magazine.
Each year, D Magazine reaches out to thousands of local doctors to pose the question, "To whom would you send your own family members for care?" To answer this question, these local doctors are invited to nominate their peers on dmagazine.com to receive the Top Doctor distinction. Nominating doctors must have a valid medical license and currently practice within the area. Nominations are limited to a maximum of three doctors per category. The nominees are then reviewed by an independent panel and winners are selected through a peer-review process that includes input from the D Magazine editorial staff and leaders in the medical community. Criteria for selection of winners include the number of votes submitted on the doctor's behalf, as well as each nominee's credentials and their good standing within the medical community.
Board Certified Dermatologists Bryan Selkin, MD and David Meyer, MD will be recognized as Top Doctors in the field of Dermatology in the December 2020 issue of D Magazine. The list includes physicians from nearly 40 different medical specialties.
Dr. Selkin is Board Certified in the area of Dermatology and received extensive training at the esteemed Harvard University, as well as a tour as Chief Resident of Education at the well-respected Harvard University Dermatology Residency Program. Following his rigorous training program, Dr. Selkin joined the faculty at Harvard University and within the year following his graduation, he was awarded outstanding teacher of the year. Consistently recognized as a leader in the field of Dermatology by both Texas physicians and the community alike, he has been voted a D Magazine Best Doctor in Dermatology in Collin County since the inception of the award in 2011 and multiple years in the Dallas County edition.
David Meyer, MD earned a Doctor of Medicine from the University of Texas Health Science Center School of Medicine in San Antonio. Because of his interest in public health, he also earned a Certificate in Public Health through the University of Texas School of Public Health in Houston, TX.
He completed an internship at Yale-New Haven Hospital with the renowned Yale School of Medicine in New Haven, CT, and a Dermatology residency at the University of Texas Health Science Center at San Antonio where he served as a chief resident his final year.
"I'm honored to be recognized as one of the Best Doctors in Dallas," said Dr. Selkin. "It is a pleasure to work with and collaborate with respected colleagues in the community for the benefit of mutual patients and I appreciate the trust they have placed in me."
Dr. Selkin and Dr. Meyer practice in Plano, Texas. Their modern office includes medical dermatology, surgical dermatology, cosmetic dermatology, and Mohs Surgery. Working alongside Dr. Selkin and Meyer at their Plano office are Board Certified Dermatologists Dr. John "Jay" Wofford, Dr. Sam Awan, and Dr. Caitlin Farmer, and Fellowship Trained Mohs Surgeons Dr. Valerie Truong and Dr. Howard Steinman.
About U.S. Dermatology Partners
As one of the largest physician-owned dermatology practices in the country, U.S. Dermatology Partners' patients not only have access to general medical, surgical, and cosmetic skin treatments through its coordinated care network but also benefit from the practice's strong dermatology subspecialty thought leaders and medical advisory board. To be the best partners to its patients, U.S. Dermatology Partners is fervently focused on providing the highest level of patient-first care, and its team, therefore, includes recognized national leaders in areas such as clinical research, psoriasis, and Mohs Surgery. To learn more, visit usdermatologypartners.com.