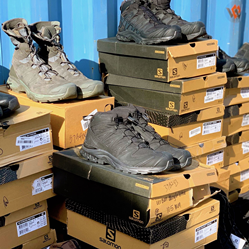 U.S. Elite is honored to serve these warriors and excited to begin a new journey together and live life to the fullest with purpose. We're in this together 'One boot, one step at a time. Onward and upward! - U.S. Elite CEO Steve Keefer
SAN ANTONIO (PRWEB) November 21, 2019
U.S. Elite, the market leader in premium outdoor and tactical gear, announces today a partnership with Warriors Heart Foundation to support the healing journey of warriors by donating 275 pairs of boots, valued at $50,000, in sync with the holiday season of giving thanks. These boots are a heartfelt gift "to help Warriors find solid footing and move forward" as they overcome their 'War At Home' and struggles with drug and alcohol addiction, PTSD, mild TBI (traumatic brain injury), anxiety, trauma and other recurring issues.
The Warriors Heart Foundation will present these Salomon Forces boots to clients entering treatment at the Warriors Heart facility, while supplies last. Warriors Heart is the first and only private and accredited residential treatment program for "warriors only" (military, veterans and first responders) in the United States, located in Bandera, Texas.
U.S. Elite CEO Steve Keefer, who served in the 75th Ranger Regiment, shared his WHY, "U.S. Elite is honored to serve these warriors and excited to begin a new journey together and live life to the fullest with purpose. This is a project that is near and dear to our hearts. We have very close friends who say Warriors Heart has literally saved their lives. Through Warriors Heart, we've witnessed our fellow warriors come back from incredibly dark places, and transform into beacons of light radiating positivity, love and respect with their families, friends and communities. We're in this together 'One boot, one step at a time. Onward and upward!'"
Warriors Heart Founder and Former Special Forces Tom Spooner expressed his team's deep appreciation, "We're very grateful to U.S. Elite for their generous donation that will help our warriors rebuild their lives, and take their first steps with dignity and respect."
And in the spirit of the giving season, these boots will have a much deeper meaning for recipients, especially for some who were homeless before arriving to Warriors Heart. While each journey is unique, these U.S. Elite boots will support "a journey of a thousand miles that begins with a single step and feet on the ground."
Spooner added, "Thanksgiving is a great time to be thankful not only for the people in your lives who support your journey "home" and generous gifts (such as these U.S. Elite boots). It's also an important time to step back and be grateful for the little things that make a big difference, including waking up in the morning and making it another night. We encourage everyone to take time this holiday season to thank our warriors and their families for protecting our freedom."
MEDIA CONTACT: Liz Kelly, 310-987-7207
ABOUT Warriors Heart Foundation (Bandera, Texas)
Warriors Heart Foundation is a 501 (c)(3) that accepts donations to help heal our protectors with their peers. One of the missions of the foundation is to provide financial aid through hardship grants that assist in covering the cost of treatment at Warriors Heart to help our military, veterans and first responders get the treatment they have earned and deserve. https://www.warriorsheartfoundation.org
ABOUT Warriors Heart (Bandera, Texas near San Antonio):
Warriors Heart provides the first and only private accredited treatment program in the U.S. for "Warriors Only" (military, veterans and first responders) faced with the self-medicating struggles of alcohol addiction, prescription and drug addiction, PTSD (post-traumatic stress disorder) and mild TBI (Traumatic Brain Injury) in a private, 40-bed facility on a 543-acre ranch outside San Antonio, Texas. While there are other treatment programs for warriors in the U.S., Warriors Heart is the only true peer-to-peer program because others are mixed with civilians. Along with a 42-day peer-to-peer residential treatment program, Warriors Heart gives warriors the option of Day Treatment, Outpatient, and Sober Living (60 Day Minimum). Warriors Heart's work has been featured on the TODAY Show, TIME Magazine: The Science of Addiction, Dr. Drew Midday Live with Leeann Tweeden, Stars and Stripes, U.S. Chamber of Commerce, Addiction Professional, American Legion Magazine, and many more media. There is a 24-hour Warriors Heart hotline answered by warriors: 844-448-2567. https://www.warriorsheart.com
ABOUT U.S. Elite (Hawthorne, New Jersey)
U.S. Elite is the go-to place for veteran-vetted outdoor and tactical gear with market leadership in such premium brands as Arc'teryx LEAF (Law Enforcement & Armed Forces), Salomon Forces and other best-in-class offerings. U.S. Elite is a Service Disabled Veteran Owned Small Business (SDVOSB), has a GSA Contract (Schedule 84), and consistently earns outstanding customer reviews from independent rating agencies such as Shopper Approved. Our team is comprised of veterans, gear junkies, outdoor sportsmen, athletes, and folks who just like to serve. We also own and operate CrossFit SOAR. The company covenant includes five pillars: 1) offer only first-rate products and services, 2) treat everyone fairly and with respect, 3) commit to deliver a truly kickass client experience, 4) evolve, grow and consistently improve and 5) have some fun along the way. https://www.us-elitegear.com