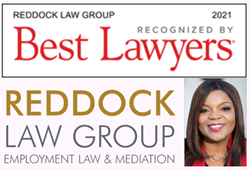 "Our firm's core mission is to help employers and employees create great workplaces through the dispute resolution process. We are honored to have received national recognition for doing work we love," - Angela Reddock-Wright
LOS ANGELES (PRWEB) December 08, 2020
The Reddock Law Group is pleased to announce that we have been included in the 2021 U.S. News - Best Lawyers® "Best Law Firms list for employment and labor law. As a dispute resolution firm (mediation, arbitration and investigations), the Reddock Law Group is happy to be included in the substantive law area where our practice focuses primarily. U.S. News & World Report and Best Lawyers® joined to rank more than 14,000 firms across the United States. Firms included in the 2021 "Best Law Firms" list are recognized for professional excellence with persistently impressive ratings from clients and peers.
ABOUT U.S. NEWS & WORLD REPORT U.S. News & World Report is the global leader in quality rankings that empower people to make better, more informed decisions about important issues affecting their lives. A digital news and information company focused on Education, Health, Money, Travel, Cars and Civic, USNews.com provides consumer advice, rankings, and analysis to serve people making complex decisions throughout all stages of life. More than 40 million people visit USNews.com each month for research and guidance. Founded in 1933, U.S. News is headquartered in Washington, D.C.
ABOUT "BEST LAW FIRMS" The U.S. News – Best Lawyers "Best Law Firms" rankings are based on a rigorous evaluation process that includes the collection of client and lawyer evaluations, peer review from leading attorneys in the field, and review of additional information provided by law firms as part of the formal submission process. To be eligible for a 2021 ranking, a law firm must have at least one lawyer recognized in the 26th Edition of The Best Lawyers in America list for that particular location and specialty.
"Our firm's core mission is to help employers and employees create great workplaces through the dispute resolution process. We are honored to have received national recognition for doing work we love," said Reddock-Wright, the Managing Partner of the firm.
About the Reddock Law Group:
Experienced Employment Dispute Resolution, Mediation, Arbitration, Workplace & Title IX Investigations Firm
Founded in 2011 and based in downtown Los Angeles, the Reddock Law Group is a boutique, certified minority, and woman-owned employment and labor law firm that specializes in providing dispute resolution, mediation and arbitration services in employment law matters involving public, private and non-profit sector employers.
The firm also is a leader in conducting high profile and highly-sensitive workplace and Title IX investigations for employers and colleges, universities, K-12, and independent schools.
The firm also conducts diversity and inclusion and implicit bias training, along with preventive discrimination, sexual harassment, and other workplace compliance trainings for managers, supervisors, and employees.
The firm also supports construction, transportation, and infrastructure projects by providing Project Labor Agreement (PLA) administration and labor compliance services. Currently, the firm serves as the Compliance Manager for the multi-billion dollar Landside Access Modernization (LAMP) program at the Los Angeles World Airports/LAX and serves as the Co-PLA Compliance Administrator for the So-Fi Stadium in Inglewood, California.
Known as the "Workplace Guru," the firm is led by Angela Reddock-Wright, a 25-year practicing employment and labor law attorney, mediator, arbitrator and certified workplace and Title IX investigator (AWI-CH). Reddock-Wright also is a member of the panel of distinguished mediators and arbitrators with Judicate West, a California firm that represents the gold standard in dispute resolution.
Among other accolades, Reddock-Wright has been named a U.S. Best Lawyer for employment and labor law, a Southern California Super Lawyer, and a top California employment, woman, and minority attorney for multiple years in a row. She is a published author, frequent speaker, trainer and legal commentator on employment and labor law and human resources topics and trends.
Reddock-Wright is a regular legal and media commentator and analyst and has appeared on such media outlets as Entertainment Tonight, Law and Crime with Brian Ross, Court TV, CNN, ABC, CBS, Fox 11 News, KTLA-5, the Black News Channel, Fox Soul – The Black Report, NPR, KPCC, Airtalk-89.3, KJLH Front Page with Dominique DiPrima, the New York Times, the Washington Post, the LA Times, Yahoo! Entertainment, People Magazine, Essence Magazine, the Los Angeles Sentinel, LA Focus, Our Weekly and the Wave Newspapers.
For more information about the Reddock Law Group & Angela Reddock-Wright:
https://www.reddocklaw.com/
https://www.judicatewest.com/adr/angela-reddock-wright
https://angelareddock-wright.com/
https://www.linkedin.com/in/angelareddock/
If you would like to speak with a representative from the firm or the firm's publicist, please contact:
Angela Reddock-Wright, Esq.
Mediator, Arbitrator, Investigator
Email: info@reddocklaw.com
Phone: 213.996.8474
Lisa Elkan
Lisa PR
Email: LisaElkanPR@gmail.com