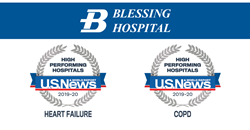 "Blessing Hospital providers are committed to helping people manage these types of chronic conditions to help them stay out of the hospital and enjoy the highest quality of life possible."
WASHINGTON (PRWEB) August 14, 2019
Blessing Hospital has been recognized as a High Performing Hospital for 2019-20 by U.S. News & World Report.
Blessing Hospital earned "High Performing" ratings for Congestive Heart Failure (CHF) and Chronic Obstructive Pulmonary Disease (COPD) in recognition of care that was significantly better than the national average, as measured by factors such as patient outcomes. "High Performing" is the highest rating U.S. News awards these types of care.
CHF is the stage of heart failure in which fluid builds up around the heart and causes it to pump inefficiently. Heart failure contributes to more hospitalizations than all forms of cancer combined and can be life-threatening.
COPD is an umbrella term used to describe progressive lung diseases including emphysema, chronic bronchitis, and non-reversible asthma. This disease is characterized by increasing breathlessness and is a leading cause of death in the country.
"CHF and COPD contribute to many hospitalizations in our region each year," said Maureen Kahn, RN, MHA, MSN, president/chief executive officer, Blessing Health System and Blessing Hospital. "Blessing Hospital providers are committed to helping people manage these types of chronic conditions to help them stay out of the hospital and enjoy the highest quality of life possible."
"Having this prestigious recognition of our care demonstrates Blessing truly is living its mission, improving the health of our communities, and delivering nationally-recognized care to the people of the region," Kahn concluded.
The annual Procedures & Conditions ratings, now in their 5th year, are designed to assist patients and their doctors in making informed decisions about where to receive care for common conditions and elective procedures. These ratings extend the U.S. News mission of providing consumers with patient decision support beyond the Best Hospitals rankings, which are geared toward complex specialty care.
For the 2019-20 ratings, U.S. News evaluated more than 4,500 medical centers nationwide in nine procedures and conditions. Fewer than a third of all hospitals received any high-performing rating, and only 57 earned this rating in all nine Procedures & Conditions. The state and metro area rankings recognize hospitals that received high performing ratings across multiple areas of care.
"For 30 years, U.S. News has strived to make hospital quality more transparent to healthcare consumers nationwide," said Ben Harder, managing editor and chief of health analysis at U.S. News. "By providing the most comprehensive data available on nearly every hospital across the United States, we give patients, families and physicians information to support their search for the best care across a range of procedures, conditions and specialties."
The U.S. News Procedures & Conditions methodology is based entirely on objective measures of quality such as risk-adjusted outcome rates, volume, quality of nursing and other care-related indicators.
The Procedures & Conditions ratings were produced by U.S. News analysts.
For more information about the 2019-20 rankings and ratings, please visit the FAQ. The rankings will be published in the U.S. News "Best Hospitals 2020" guidebook (ISBN 9781931469937), available for pre-order now from the U.S. News Online Store and for purchase at other bookstores in mid-September.
ABOUT BLESSING HOSPITAL
Blessing Hospital is a is a not-for-profit, acute care hospital located in Quincy, Illinois. It is a member of Blessing Health System (BHS), an integrated health system consisting of multiple hospitals and medical clinics supported by two nationally recognized physician groups, an accredited college of nursing and health sciences, a charitable foundation, and a multi-specialty medical services company. BHS offers the largest and most advanced medical center within a 100-mile radius, with the resources to offer comprehensive, advanced medical care seldom found outside major metropolitan areas.
ABOUT U.S. NEWS & WORLD REPORT
U.S. News & World Report is the global leader in quality rankings that empower people to make better, more informed decisions about important issues affecting their lives. A digital news and information company focused on Education, Health, Money, Travel, Cars and Civic, USNews.com provides consumer advice, rankings and analysis to serve people making complex decisions throughout all stages of life. More than 40 million people visit USNews.com each month for research and guidance. Founded in 1933, U.S. News is headquartered in Washington, D.C.