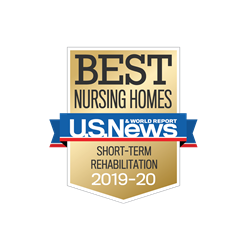 "Our team gives their heart and soul to their patients daily and are incredibly proud to receive this distinction."
SAN DIEGO (PRWEB) February 11, 2020
Reo Vista Healthcare Center has been recognized as a Best Nursing Home for 2019-20 by U.S. News & World Report. The home earned Best Nursing Homes status by achieving a rating of "High Performing," the highest possible rating, for Short-Term Rehabilitation. U.S. News gives the designation of Best Nursing Home only to those homes that satisfy U.S. News's assessment of the appropriate use of key services and consistent performance in quality measures.
"Helping patients recover from a stroke, heart attack, or major surgery takes a great deal of expertise and coordination from multiple disciplines," said Curtis White, Administrator at Reo Vista Healthcare Center. "Our team gives their heart and soul to their patients daily and are incredibly proud to receive this distinction."
According to Census.gov, about 10,000 people per day are turning 65 creating a demographic shift often called the "gray tsunami." This shift will dramatically increase the demand for high-quality skilled nursing facilities like Reo Vista.
"For the aging population in America, a nursing home should meet the specific level of care based on the needs of each patient or resident," said Kim Castro, editor and chief content officer of U.S. News.
"The U.S. News Best Nursing Home ratings hone in on measurements like emergency room visits, quality of staff and proper distribution of medical and physical therapy to help families make an informed decision," she said. "These ratings help individuals and their families begin their search for senior care and should be used in consultation with a medical professional and in-depth on-site visits."
Now in its 10th year, the U.S. News Best Nursing Homes ratings and profiles offer comprehensive information about care, safety, health inspections, staffing and more for nearly all of the nation's 15,000-plus nursing homes. The Best Nursing Homes ratings reflect U.S. News' exclusive analysis of publicly available data using a methodology defined by U.S. News that evaluates factors that it has determined most greatly impact patient and resident care, safety, and outcomes.
About Reo Vista Healthcare Center
Reo Vista Healthcare Center is a 159-bed skilled nursing facility that delivers comprehensive, round-the-clock healthcare for patients in need of short-term rehabilitation or long-term care. Located in San Diego California, Reo Vista has been the recipient of some of the nation's most prestigious honors. Among the most recent include:

About U.S. News & World Report
U.S. News & World Report is the global leader in quality rankings that empower people to make better, more informed decisions about important issues affecting their lives. A digital news and information company focused on Education, Health, Money, Travel, Cars, and Civic, USNews.com provides consumer advice, rankings, and analysis to serve people making complex decisions throughout all stages of life. More than 40 million people visit USNews.com each month for research and guidance. Founded in 1933, U.S. News is headquartered in Washington, D.C.