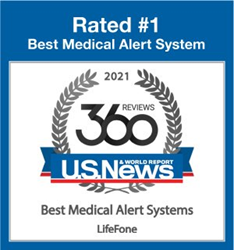 "Everything we do at LifeFone is focused on one purpose: providing our subscribers and their loved ones peace of mind. "
WHITE PLAINS, N.Y. (PRWEB) February 09, 2021
U.S. News & World Report's 360 Reviews has rated LifeFone as the Best Medical Alert System of 2021.
U.S. News online guide provides in-depth information to help Americans choose the medical alert system that's best for them. It covers a range of features including price, connectivity options, 24/7 monitoring, and add-on services.
"Everything we do at LifeFone is focused on one purpose: providing our subscribers and their loved ones peace of mind. Subscribers put their lives in our hands when they purchase our medical alert system, and we do everything we can to earn their trust. We are grateful for this recognition and for our wonderful team that delivers on our promise every day."
U.S. News evaluated medical alert systems based on cost, in-home range capabilities and the availability of 24/7 monitoring. U.S. News 360 Reviews team applied an unbiased methodology that includes professional ratings and reviews, consumer ratings and reviews and research comparing various features of medical alert systems.
Media Inquiries, please contact Danielle Moody; dmoody@lifefone.com. 800-882-2280 Ext. 300
ABOUT LIFEFONE
Since 1976, LifeFone has been helping people to live active independent lives on their terms. For LifeFone, subscriber well-being always comes first. Its systems and services are designed for any lifestyle. They are reliable, affordable, and work at home and on-the-go. LifeFone's care tools can help with important aspects of daily living. They include wellness checks, medication reminders, activity assurance, and subscriber location services.
Based in White Plains, New York, LifeFone is a fully owned subsidiary of MSS Electronics, Inc. MSS Electronics specializes in integrated access control systems, video surveillance, intrusion detection systems, and central station monitoring.
ABOUT U.S. NEWS & WORLD REPORT
U.S. News & World Report is the global leader in quality rankings that empower people to make better, more informed decisions about important issues affecting their lives. A digital news and information company focused on Education, Health, Money, Travel, Cars and News, USNews.com provides consumer advice, rankings and analysis to serve people making complex decisions throughout all stages of life. The 360 Reviews team brings the U.S. News approach to consumer guidance into a broad set of consumer product and service categories. More than 40 million people visit USNews.com each month for research and guidance. Founded in 1933, U.S. News is headquartered in Washington, D.C.