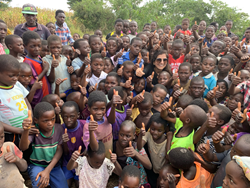 the Our Aim Foundation is Focused on Empowering Women and Uplifting Communities
WASHINGTON (PRWEB) April 11, 2019
U.S. NGO Our Aim Foundation launched a major initiative in Malawi. The first of many full service health-care and resource centers was launched in the remote Malawi village of Mkanda in Mchinji district at Tongozala village. The full service center is made up of a health clinic, recreation center, women empowerment services and kids playground. The center is also solar powered and designed to encourage villagers to adopt a similar energy system. launch was attended by thousands of Malawian citizens from across the country to include notable elected officials, business leaders and the U.S. Ambassador.
The most honorable Minister of Gender, Children and Social Welfare Cecelia Chazama officiated the launch and added "We thank Our Aim Foundation for these projects and do not take it for granted. We encourage Our Aim founder Anisha Mandani and her team not to stop supporting us." Chief Director of Health Services from the Malawi Ministry of Health Dr. Charles Mwansambo commented "patients here will no longer walk very long distances to get the medical support they need."
Our AIM Foundation founder Anisha Mandani shared that Our AIM had already successfully initiated several projects in Malawi, some of them being the construction of hundreds of toilets, boreholes, school annex and care centers for orphans. The foundation has most recently initiated similar projects in Salima, Lilongwe and Dowa districts. Minister of Parliament, the Honorable Alex C.M. Major suggested "every problem has an expiration date and the Our AIM Foundation is part of the solution to end the suffering of the most vulnerable in Malawi."
Our AIM's future goals are to build holistic community centers and orphanage primary/secondary schools in many more villages that can provide services to thousands. Our AIM intends to provide deep long-term permanent impact that will transform lives through hope and empowerment.