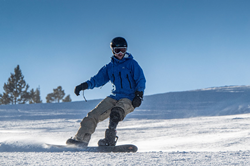 Being a part of The Hartford Ski Spectacular allows me the honor and privilege to share my knowledge with hundreds of people each year and help individuals with disabilities learn about adaptive snow sports, Paralympic Medalist Keith Gabel
ROCKVILLE, Md. (PRWEB) December 01, 2020
Move United is hosting the 33rd annual The Hartford Ski Spectacular virtually from Dec. 1-3, opening up the event to even more participants across the country to experience the nation's premier multi-winter sports event for people with disabilities. Traditionally, this event welcomes hundreds of people to Beaver Run Resort in Breckenridge, Colorado.
This year, more than 1,000 participants from 46 states as well as the District of Columbia and Puerto Rico, ranging in ability from recreational athletes to members of the U.S. Paralympic Team, will come together over the course of three days to attend 37 virtual sessions designed to strengthen and expand adaptive snow sports programs. Paralympic Medalists Keith Gabel and Brittani Coury, members of the USA Paralympic Snowboarding Team, will speak at the event's opening and closing ceremonies. Both athletes have attended the event for several years.
"Snowboarding is my passion," said U.S. Paralympian Keith Gabel. "Being a part of The Hartford Ski Spectacular allows me the honor and privilege to share my knowledge with hundreds of people each year and help individuals with disabilities learn about adaptive snow sports."
New this year is the virtual Trek to Breck, which encourages the community of adaptive athletes, instructors, volunteers, and family and friends to come "together" to collectively trek the 1,995 miles from Hartford, Connecticut to Breckenridge, Colorado between Nov. 25 - Dec. 2. Participants who run, walk, roll, swim, or bike at least one mile, can be entered to a prize drawing of exciting prizes, including a free trip to next year's The Hartford Ski Spectacular in Breckenridge.
"We know the transformational power The Hartford Ski Spectacular has had on thousands of participants and instructors for over three decades. And although we can't host this event in person in Breckenridge this year, we hope we can reach even more individuals, who have not been able to travel to Colorado for this event in the past," said Move United Executive Director Glenn Merry. "We are grateful to The Hartford for their steadfast commitment, allowing Move United to continue providing an important physical outlet to help people with disabilities remain healthy, active and connected."
The Hartford has been an advocate for the adaptive sports movement and sponsor of athletes with disabilities for more than 25 years. As a leading provider of disability insurance, the company has a long-held belief that sports are an important part of physical rehabilitation following a disabling illness or injury. In 2019, the company created its Ability Equipped® program to make adaptive sports and equipment more accessible to youth and adults with disabilities.
"As the pandemic continues to affect how we live and work, it is important to carry on and find ways to stay active and connected," said Jonathan Bennett, head of Group Benefits at The Hartford. "We are proud to sponsor The Hartford Ski Spectacular for the 27th year and to continue helping people achieve their goals."
The event is also supported in part by a grant from the U.S. Department of Veterans Affairs. Wounded military veterans, service members, family and military medical staff from Walter Reed National Military Medical Center, San Antonio Military Medical Center, Naval Medical Center San Diego, Fort Carson Warrior Transition Battalion will also be participating. Since 2003, Move United has served more than 15,500 severely wounded or injured veterans, service members and family members, offering nationwide programs in more than 60 different adaptive sports.
Other event sponsors include Veritas Capital, Oshkosh Defense, Wash Depot, Tee It Up for the Troops, and Beaver Run Resort & Conference Center.