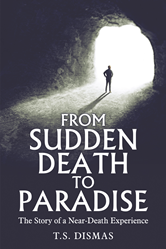 "God has a plan for all of us here on Earth and although I really enjoyed my time in Heaven, I am happy to continue my life here on Earth under his grace," Dismas said. "He has prepared a place (Heaven) that is worth any suffering you can experience in life."
ROSEMOUNT, Minn. (PRWEB) January 06, 2020
After serving in the Military Police Corps, T.S. Dismas faced health issues from injuries sustained while he served his country. In his moving memoir, "From Sudden Death to Paradise: The Story of a Near-Death Experience," Dismas shares his medical journey, the complications his heart endured and his visit to Heaven after his heart stopped for ten minutes.
Dismas had a heart attack and had a defibrillator installed in his heart afterward. This defibrillator and his cardiac sarcoidosis later led to his heart stopping for ten minutes. While his heart stopped, he visited Heaven and spoke with Jesus. Dismas' powerful, detailed recount of Heaven in "From Sudden Death to Paradise" illustrates the beauty of the afterlife and the unconditional love God has for everyone.
"God has a plan for all of us here on Earth and although I really enjoyed my time in Heaven, I am happy to continue my life here on Earth under his grace," Dismas said. "He has prepared a place (Heaven) that is worth any suffering you can experience in life."
Since his near-death experience (NDE), Dismas has found peace and meaning in life knowing that God has a plan for everyone. Dismas' NDE led him to have a closer relationship with God, which he had been struggling with before his visit to Heaven.
Readers can find comfort in Dismas' visit to heaven, and those struggling with their own faith will find reassurance that there is an afterlife and that God has a pure love for them.
"From Sudden Death to Paradise: The Story of a Near-Death Experience"
By T.S. Dismas
ISBN: 978-1-9736-7255-5 (softcover); 978-1-9736-7256-2 (hardcover); 978-1-9736-7254-8 (electronic)
Available at the WestBow Press Online Bookstore, Amazon and Barnes & Noble.
About the author
T.S. Dismas has a Bachelor of Arts in Psychology and a Master of Arts in Counseling Psychology. He served in the Military Police Corps until his honorable discharge due to disabilities he sustained while serving his country. Dismas' disabilities led to a rare autoimmune disease and then to a heart attack and life-threatening heart failure. In March 2019, he received a heart transplant and is doing well and currently resides in Rosemount, Minnesota. To read about Dismas and his book, please visit his website: https://www.tsdismas.com/.
For Interview Requests & Review Copies, Please Contact:
LAVIDGE – Phoenix
Krista Tillman
480-648-7560
ktillman@lavidge.com