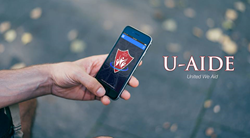 Our number one priority at U-Aide is the safety of our communities, family, and friends.
Los Angeles, California (PRWEB) February 12, 2015
It's an unfortunate fact that 1.2 million violent crimes occur annually in the United States. Inspired by their own families' stories and the overwhelming crime rate, the founders of U-Aide have developed an emergency response app to promote personal safety and revolutionize the way people communicate in emergency situations.
Whether someone is arriving home late from work, walking around campus, or become a victim of home invasion, there isn't always time to fumble with their phone to dial the authorities and talk to dispatch. U-Aide will do the work for users—with three taps of their phone's volume button or a tap on the call-for-help button on U-Aide's home screen, users' pre-selected emergency contacts and U-Aide respondents will be notified of their location.
The innovative technology utilized by U-Aide and GPS tracking capabilities allow the app to instantaneously contact users' friends, family, and U-Aide representatives, detailing users' whereabouts and movements. Getting more calls for help out there faster will result in more efficient emergency response time.
One of the founders of the personal safety app was inspired to help improve safety by his sister, whose family became third-time victims of home invasion. Her and her two children came home to find their front door ajar and the lock broken. The mother, in a hurry to get her family to safety, was unable to contact authorities until after driving to a relative's house. With U-Aide's quick and effortless communication, the authorities may have been able to find the perpetrator before they fled the scene.
Common experiences like these call for a new method of communication. U-Aide founder Arya Mokhtari says, "Our number one priority at U-Aide is the safety of our communities, family, and friends." He adds, "To help get our apps into the hands of the people who need it—college students who walk on campus late at night, women who find themselves in dangerous situations, children who need a way to stay safe on their way to school—we are raising money on Kickstarter. We hope that people will help us reach our goal of making the world a safer place."
To find out more about how U-Aide will help people stay safe or to donate to the project, please visit https://www.kickstarter.com/projects/492910458/u-aide-app.
U-Aide
U-Aide is a new emergency response app that changes the way people ask for help. U-Aide provides users with two simple ways to get their cry for help heard: by tapping their volume button three times or by hitting the call for help button on U-Aide's home screen. The safety of communities, friends, and family is U-Aide's number one aim.
See how the U-Aide app works by visiting the U-Aide YouTube channel at https://www.youtube.com/user/UAIDEapp.
"Like" U-Aide on Facebook at https://www.facebook.com/uaidecommunity.
Follow U-Aide on Twitter @UAideApp.