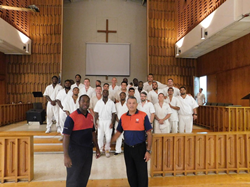 The first baptism of many more to come.
BRAZORIA, Texas (PRWEB) December 13, 2018
The Universal Church of the Kingdom of God is proud to announce the first water baptism of inmates at the Clemens Unit Trusty Camp in September. Twenty-four men decided that they wanted to experience a complete transformation, to depart from their previous lifestyle and trust in God's promises instead. The baptism was possible through the outreach efforts of Universal Beyond Bars (UBB). Clemens Unit Trusty Camp is a part of the Texas State Correctional System and is located in Brazoria, TX. The baptism was evidence of a growing movement by UBB in Texas.
"The first baptism of many more to come," said Pastor Quincy, a chaplain of the facility.
UBB was started by the Universal Church of the Kingdom of God to reduce the rate of recidivism in U.S. prisons and help inmates in need of emotional and spiritual support change their lives around. Overall, there are 2.4 million inmates in the United States and the rate of recidivism in the United States is extremely high. The Bureau of Justice Statistics says that nearly 70 percent of prisoners are arrested again within three years of being released.
UBB performs a wide variety of outreach in order to help prisoners and their families overcome their difficulties and make significant changes in their lives. Group members reach out to inmates to offer support and stories of how they found their own faith in God. Universal Church meetings are organized inside of the jail, and congregants and pastors also reach out to families of those incarcerated to help them overcome any emotional and spiritual challenges they are facing. Additionally, UBB and the Universal Church were able to donate over 12,700 Bibles to inmates in 2017.
UBB and the Universal Church congratulate the 24 men who were baptized in the ceremony and look forward to showing how the power of God goes beyond the bars and how real change is possible anywhere.
About The Universal Church: The Universal Church believes in the Word of God and the power of faith. Locations are open 365 days a year and they are passionate about reaching those in need of spiritual guidance and restoration. They believe anyone can change for the better.