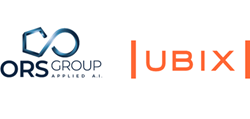 ORANGE COUNTY, Calif. (PRWEB) January 29, 2021
UBIX, the open source AI-on-Demand company, today announced a partnership with ORS Group, a cross-industry platform for optimizing and automating business processes using proprietary Big Data Analytics and Artificial Intelligence (AI). This combination will accelerate the democratization of advanced analytics and data science in order to make AI abundant, reliable and cost effective for small and midmarket companies.
ORS Group brings a deep understanding of the reality and complexity of modern business and its team is skilled at creating software solutions – based on its innovative AI Platform – aimed at helping executives extract significant efficiency and cash flow from sales and operations. The ORS AI Platform includes a comprehensive library of AI, Machine Learning and Big Data Analytics algorithms and a suite of vertically integrated solutions for Retail, Manufacturing, Financial and Energy industries that deliver optimized value chains in these industries.
UBIX is an open-source data science platform designed to manage the complete AI lifecycle. It automates and scales all the key tasks across the end-to-end data and analytics pipeline; and enables users of all skill levels to contribute to the development of AI applications at scale. This makes UBIX a natural fit for AI application development to drive digital transformation in small and midmarket companies.
"With ORS and UBIX, organizations can now afford to deploy AI-enabled processes and applications," said John Burke, CEO of UBIX. "These organizations will be able to leverage a deep model library and over 40 analytic solutions that are being used in different industry verticals such as Demand Planning, Inventory Planning, Manufacturing Control, Procurement and Logistics in manufacturing, CPG/Retail, and Risk Management, Pricing, Fraud Detection in Financial Services."
"Through leading edge technology and best-in-class business functionality, ORS continues to deliver unparalleled value to its customers," said Chandra Subramanian, Chairman and Board Leader at ORS. "With UBIX's deep knowledge and expertise in data science and AI, this partnership is democratizing advanced analytics and AI for the midmarket organizations, which have struggled to adopt these capabilities due to the overwhelming complexity and cost of current offerings."
About UBIX:
UBIX offers a cognitive, AI-on-Demand platform that empowers users of all skill levels to develop and deploy open-source, big, fast data architecture and data science pipelines faster and better than ever. Our patented data shaping and patent-pending learning engine are trained by each input, interaction, and outcome; growing in knowledge and impact over time. Together, we improve productivity, creativity, eliminate errors, support governance, and ultimately accelerate time to value. UBIX is privately funded and based in Orange County, CA. For more information, visit http://www.ubixlabs.com or follow us on LinkedIn.
About ORS Group:
ORS software solutions are applications, which make use of science and leverage on 20 years of proprietary development in A.I., Machine Learning and Big Data Analytics to optimize complex business processes for the whole value chain, from production to sales. ORS' products are fully integrated with all customers' legacy systems – from SAP to old AS/400 – and automate operations like production scheduling, intelligent and highly proactive supply chains, making them smarter and more efficient. ORS GROUP is also connecting A.I. and Blockchain through their new product, the Hypersmart Contracts ("HSC"), to provide access to more than 1,000 proprietary algorithms and hundreds of software solutions to the Crypto Community and to established businesses. By combining the power of UBIX and ORS, we envision a planetary network of entrepreneurs and independent companies empowered by the new digital alphabet: ABC – Artificial Intelligence, Blockchain, Cryptocurrency. For more information visit http://www.ors.ai or follow us on Linkedin.
Media Contacts
Tony Levy
UBIX
tony@ubixlabs.com
Chandra Subramanian
ORS Group
chandra@ors.ai