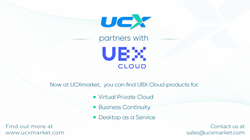 "With UCXMarket, we're putting the power in the hands of IT decision-makers to compare and contrast our solutions against other providers because we are confident our offerings are best in class."
DETROIT (PRWEB) October 28, 2019
UBX Cloud, the global cloud services provider, announced that it has partnered with UCXMarket to list its cloud desktop, disaster recovery and private cloud service offerings in the UCXMarket enterprise cloud marketplace.
Through this strategic partnership, UBX Cloud has expanded the reach of its services to a platform that centralizes the procurement of enterprise cloud services. Businesses can now take advantage of the ease and simplicity of the UCXMarket platform to filter, compare other providers, and purchase UBX Cloud services directly through the marketplace.
"We are excited to partner with UCXMarket," said Steve Panovski, Managing Partner of UBX Cloud. "It's clear that businesses are looking for new innovative ways to procure cloud infrastructure. With UCXMarket, we're putting the power in the hands of IT decision-makers to compare and contrast our solutions against other providers because we are confident our offerings are best in class."
"We believe that our strategic partnership with UBX Cloud will prove to be beneficial for both our organizations," said Adam Zeck, CEO of UCXMarket. "We appreciate a company that nurtures the fun and human aspect, while also focusing on delivering excellent Technology Solutions. With qualitative services such as Cloud Desktop, Disaster Recovery, and Private Cloud Service Offerings, there's no doubt that our visitors will find great value in UBX Cloud."
About UBX Cloud
UBX Cloud is a global cloud service provider with data centers in the United States, South America and India. Our services include Managed IT-as-a-Service, Private/Hybrid Cloud, Disaster Recovery, Cloud Workspaces, Veeam Cloud Backup, and a variety of custom IT consulting services. Our team of IT engineers helps organizations of all kinds maintain uptime and ensure business continuity.
To learn more about UBX Cloud, please visit: http://www.ubxcloud.com
About UCXMarket
UCXmarket is a centralized marketplace designed to help organizations minimize costs, retain flexibility and streamline the process of getting the best price on cloud computing resources. Whether it's storage, virtual machines, bare metal, or disaster recovery, UCXmarket is the only place that allows you to compare thousands of options seamlessly. You will be able to easily search, filter and compare products while having absolute price transparency. UCXmarket has become the go-to ecosystem for buying cloud compute resources.
To learn more about UCXMarket, please visit: http://www.ucxmarket.com