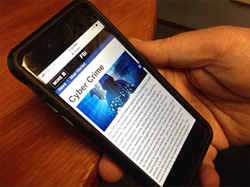 Conferences like the Information Security Symposium are critical to ensuring our faculty, staff and students are prepared to tackle cybersecurity threats.
DAVIS, Calif. (PRWEB) June 13, 2019
Networks of electronic information are embedded in nearly every aspect of our daily lives. From transportation and utility systems to telecommunication, everything from personal privacy to national security depends on maintaining the integrity of information in cyberspace.
With this accelerating growth in connectivity, researchers in academia, industry and government anticipate a wide array of cybersecurity issues in the years to come. Serious breaches of cybersecurity have already occurred in nearly every sector of business and government; identity theft, viruses and other malware plague citizens on a daily basis.
Unfortunately, experts say, current technologies to address vulnerabilities tend to be inadequate. To address cybersecurity challenges faced by college campuses in California, UC Davis will host the 2019 Information Security Symposium on June 18 and 19 at the UC Davis Conference Center. The symposium includes lectures, labs and discussions on topics involving privacy, information, computer and network security.
Approximately 450 information privacy professionals, system and security administrators and unit managers from the ten University of California campuses, including medical centers and health systems will attend, along with the chief information security officers from the California community colleges, the California State University system and California state agencies.
"It is increasingly important that like-minded individuals and institutions gather to discuss solutions to combat cyber threats," said Cheryl Washington, UC Davis chief information security officer. "This biennial event provides IT professionals from all UC campuses and other higher education guests, the opportunity to meet and discuss computer, network and information security issues and strategies, and provides an ideal forum for the exchange of privacy and security enhancement ideas and solutions."
The theme of this year's symposium is "Connect, Share, Fortify." The symposium will feature keynotes and speakers from the security and technology industries and include tracks for managing and leading security, protecting assets and data privacy and integrity, among others.
On June 18, Christopher Scott, global remediation lead at IBM Security, will deliver a keynote titled "Threat Actors, Their Tactics and How to Respond as a Team." IBM is the lead sponsor of the symposium.
Making Security a Priority
UC Davis established one of the nation's first computer security programs in the 1980s when Karl Levitt, now professor emeritus of computer science, founded the Computer Security Laboratory.
Levitt and computer science professor Matt Bishop later established the campus as a National Security Agency (NSA) Center of Academic Excellence in Cyber Defense, one of the first such centers in the United States. Later, with computer science professor Felix Wu, the team was designated as an NSA Center of Academic Excellence in Research.
These faculty have pioneered work in network-based intrusion detection, and performed some of the earliest work in vulnerabilities research by developing formal models and testing of security breaches.
"As a very high research activity (R1) university, there are significant challenges to being cybersecure while performing cutting-edge research in diverse domains," says Jennifer Sinclair Curtis, dean of the UC Davis College of Engineering. "Conferences like the Information Security Symposium are critical to ensuring our faculty, staff and students are prepared to tackle cybersecurity threats."
The next Information Security Symposium will be held in June 2021.
About UC Davis Information and Educational Technology
Information and Educational Technology (IET) provides the foundational and enabling infrastructure, hardware, software and systems that provide support for institutional activities including the Data Center, virtualization, system administration, IT Express central service desk, Identity and Access Management, Email, Telecommunications, network, website hosting, content management and information security.
About the UC Davis College of Engineering
The UC Davis College of Engineering inspires a diverse and talented student community to positively impact the world through innovative research and rigorous curricula. Learn more at engineering.ucdavis.edu.
Contacts
Aditi Risbud Bartl
arisbudbartl(at)ucdavis(dot)edu