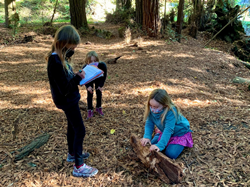 "Though it has been a very quiet year thus far, it appears that with the hope of a vaccine to combat Covid-19, people are optimistic and are looking toward 2021 for their groups to gather again. It is a welcome trend and one that we hope will continue."
PETALUMA, Calif. (PRWEB) December 17, 2020
It has been a very slow year for UCCR as hosting gatherings at their nine camp, conference and retreat centers has not been possible due to the pandemic. The organization has seen some small groups gather safely, like family groups looking for a secluded lodging option. Large groups have had to reschedule for 2021.
"We are a small nonprofit that partners with other nonprofits to provide beautiful, back-to-nature facilities. We have hosted large band camps, outdoor motorcycle groups, spiritual groups seeking a place for reflection, and many other types of groups looking for gathering space," says Director of Reservations & Communications Tina Heck. "Though it has been a very quiet year thus far, it appears that with the hope of a vaccine to combat Covid-19, people are optimistic and are looking toward 2021 for their groups to gather again. It is a welcome trend and one that we hope will continue."
UCCR has over 50 years of experience working with property owners who partner with their full-range facility management services. This takes the pressure off the property owners to do everything from taking reservations for groups, marketing, accounting, handling the maintenance of the property as well as cooking, cleaning and hosting visiting groups.
"The busiest facility we manage is Craigville Retreat Center on Cape Cod", says Bob Effisimo, the Reservations Supervisor, "though we have 5 camp and conference centers in California: Camp Lodestar, Pilgrim Pines Camp, Camp Arroyo, Community of the Great Commission and Monte Toyon. We also manage a retreat center in the Sierra Foothills, Applegate Jesuit Retreat Center. While our central administrative office is based in California, we also manage properties across the USA, such as Tall Oaks Camp & Conference Center in Linwood Kansas and Crystal Conference Center on Crystal Lake in Michigan."
UCCR's premier outdoor education school, Web of Life Field (WOLF) School has been able to host children in safe social distanced and masked outdoor day camp at Monte Toyon Camp in Aptos California.
UCCR has been able to stay afloat during the pandemic and is currently planning for a very busy second quarter in 2021. Customers are planning now for a promising retreat and camping season.