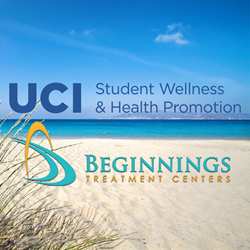 "The UCI Center for Student Wellness & Health Promotion is excited to partner with Beginnings Treatment Centers to bring awareness and education about addiction and recovery to our UCI students" - Doug Everhart, Director of the UCI Center for Student Wellness & Health Promotion
IRVINE, Calif. (PRWEB) October 18, 2019
Beginnings Treatment Centers, a Southern California Drug and Alcohol Addiction Treatment Center, is proud to act as the official sponsor of the Alcohol and Other Drug Awareness Week at the University of California, Irvine. The objective of the event is to empower students to make informed decisions around alcohol and other drugs through individual education and outreach programs to foster academic success and overall health and wellness.
"We are proud to partner with UCI to provide awareness to students about available resources for help with alcohol abuse and drug addiction," said Tarek Greiss, CEO of Beginnings Treatment Centers. "Making the decision to get help for addiction is never easy, especially for a busy college student who may also be away from their family support and feel isolated and alone. Our admissions advisors are available 24 hours a day to make it easier for someone to decide whether or not we are the best choice for them. If we are not the right choice, we will help them to find an appropriate program."
UCI Alcohol and Other Drug Awareness Week will occur the week starting 10/21/19. The event features a number of sessions for students, including Q&A with Addiction Experts, Informational Seminars, and Experiential Learning Activities. More information can be found or addiction help obtained by contacting the UCI Center for Student Wellness & Health Promotion. UCI students are encouraged to ask for help for themselves or other students who may have a problem with drugs or alcohol.
"The UCI Center for Student Wellness & Health Promotion is excited to partner with Beginnings Treatment Centers to bring awareness and education about addiction and recovery to our UCI students. This is an issue that impacts many individuals and their families, and these programs let students know that there are resources on campus and in the community that support them," said Doug Everhart, Director of the UCI Center for Student Wellness & Health Promotion. "Whether they are experiences challenges themselves, they know someone who may be struggling, or they are just curious about addiction and recovery, these programs are designed to let students know they are surrounded by people and resources that support them."
BeginningsTreatment Centers has helped over 20,000 people to recover from addiction to drugs or alcohol. Their Drug Rehab Center in Orange County is fully licensed by the State of California, and fully accredited by The Joint Commission, the nation's oldest and largest standards-setting and accrediting body in healthcare. The goal at Beginnings is to uncover the root causes of addiction, build a foundation of sobriety, and bring relief to clients and their families.