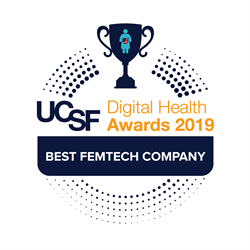 The winners of the UCSF Digital Health Awards represent the top echelon of thinking in this space, and we're excited to see what they do next.
SAN FRANCISCO (PRWEB) October 15, 2019
UC San Francisco's Health Hub, an innovation hub and startup studio supporting the next wave of digital health entrepreneurs, named Wildflower Health as the winner of the FemTech category during the UCSF Digital Health Awards. This unique awards event celebrates the achievements of innovative companies dramatically improving healthcare with technology.
More than 500 companies submitted applications to be considered for the awards. Submissions were open to qualified, mature digital health companies with in-market products that have been used by thousands of patients and have been verified in a validation study or clinical trial.
The winners were selected across 13 categories by an unmatched team of expert judges in the healthcare and VC industries, including Vinod Khosla (Khosla Ventures), Ursheet Parikh (Mayfield Fund), Blake Wu (NEA), Michael Roizen (Cleveland Clinic), Michael Blum, MD (UCSF), Michael Lesh, MD (UCSF) and Dan Burnett, MD (Theranova) among others.
"Despite advancements in technology, healthcare remains one of the most complex, difficult systems to navigate not only for patients but for providers as well. We're honored to shine a spotlight on the entrepreneurs making the brave steps to transform this industry to the benefit of everyone who needs to access care in an affordable and practical way," said Mark H. Goldstein, Chairman of the UCSF Health Hub and General Partner at venture capital firm Builders VC. "Our winners represent the top echelon of thinking in this space and we're excited to see what they do next."
UCSF Health Hub established the Digital Health Awards to spread awareness for the leading digital health companies transforming patient care, so that today's cutting-edge technologies can have an even broader reach to better people's lives and decrease healthcare costs.
"We are so honored to be recognized by the UCSF Digital Health Awards," said Leah Sparks, founder and CEO of Wildflower. "We are working extremely hard to personalize healthcare and create a better experience for women and their families as they try to navigate the system. It is both humbling and energizing to receive this kind of recognition for the progress we've made and the potential we have to change the course of healthcare."
Wildflower's personalization platform brings employer, payer and provider resources together in one digital user experience, connecting consumers to the right support at the right time via their smart phone or tablet. The solution addresses the evolving needs of families across all life stages, with specific focus areas such as pregnancy, family planning/fertility, pediatrics, women's health and general adult health and wellness. Users can manage multiple profiles with the ability to coordinate the needs of moms, dads, kids and aging parents all on one application interface.
About UCSF Health Hub
UCSF Health Hub is a 501c3 non-profit supported and funded by Silicon Valley's top health-related venture capital firms in a unique affiliation with UCSF. UCSF Health Hub connects ideas and companies with the people, expertise, and capital to scale breakthrough healthcare solutions and produces monthly on-campus events operates an company-to mentor-to clinician online matching system called Health Hub Connect and produces the UCSF Digital Health Awards show. Visit us at https://www.healthhubsf.org/.
About Wildflower Health
Wildflower empowers women and their families to confidently navigate and access the care they need, when they need it. By deeply integrating our technology into healthcare and personalizing the user experience, we help the entire healthcare ecosystem meet the expectations of today's consumer, driving a meaningful impact on health for entire families. Learn more at http://www.wildflowerhealth.com