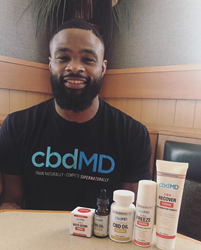 DALLAS (PRWEB) September 08, 2018
The Ultimate Fighting Championship (UFC) is bracing for its UFC 228: "Woodley vs. Till" mixed martial arts (MMA) event. In preparation for the Welterweight title champion match, cbdMD has teamed up with Tyron Woodley (18-3-1 MMA, 8-2-1 UFC), UFC Welterweight Champion of the World, Fox Sports Analyst, and host of Hollywood Beatdown on TMZ.
The main event is set to take place Saturday, September 8, 2018 at the American Airlines Center, after challenger Darren Till (17-0-1 MMA, 5-0-1 UFC) met his controversial weigh-in.
cbdMD is honored to sponsor Woodley as he trains naturally and competes supernaturally for yet another Welterweight title. To watch the big shebang, tune in to pay-per-view following prelims on FX and UFC Fight Pass.
cbdMD manufactures a full array of 100% natural, hemp-derived CBD oil products, including tinctures, capsules, vape oils, bath bombs, topicals and pet products. As a company committed to the highest standards for CBD sourcing, extraction, and production, cbdMD is for consumers seeking to experience the full benefits of CBD in a safe, convenient, and effective manner. For more information, please visit http://www.cbdMD.com.