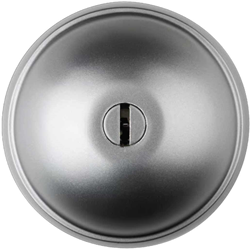 With the UFO Cloud, fleet managers can monitor and record who is opening and closing a vehicle door and when and where it took place, and can even immobilize the cargo doors if needed. – Steven Peterson
BUFFALO, Minn. (PRWEB) February 28, 2019
National Fleet Products, a leading North American supplier of cargo lifting equipment, loading ramps and other aftermarket accessories for commercial vehicles, announced that it will be introducing the new remote-access UFO Cloud Lock and Vehicle Security System in booth 4973 at the 2019 NTEA Work Truck Show in Indianapolis, Indiana. The cloud-based, app-driven locking technology puts advanced Internet of Things (IoT), security tools in the hands of fleet managers, and is the first of its kind in the industry.
The UFO Cloud Lock and Vehicle Security System gives fleet managers and logistics professionals a level of security control never before available. Using the SHA256 encrypted communication protocol developed by the National Security Agency (NSA), all electronic commands and equipment communications are ultra-secure.
An easy-to-use app transcends mechanical keys, allowing managers to create virtual keychains of admission that can be modified in real time. Using the app's dedicated dashboard, locks can be opened and closed, access permissions granted and much more, all from the manager's remote location and wherever they have access to their phone or computer.
"With the UFO Cloud, fleet managers can monitor and record who is opening and closing a vehicle door and when and where it took place, and can even immobilize the cargo doors if needed," Steven Peterson, president of National Fleet Products, said. "Using the system's geofencing capabilities, a vehicle's cargo area can also be rendered inaccessible between point A and B and access can also be granted exclusively to cargo recipients, or at designated destination points."
Through IoT connectivity, it's also possible to manage an "ecosystem" of interlocking security systems including those in locks, doors, entrance gates, machines, cabinets and much more. The system gives managers total control over who can use virtual keys, and exactly what they have permission to access and when.
The system's tool tagging feature is particularly relevant to work truck applications and anywhere tools and equipment are regularly transported in and deployed from a vehicle. Not only can managers confirm that the right tools are onboard before the truck is dispatched, they can also make sure the same tools are accounted for and loaded before the vehicle leaves the worksite.
"Tools and equipment are not only valuable, they are mission critical for many vocational fleets," Peterson said. "With our system's tool tagging and tracking feature, the very costly issue of tool loss is essentially taken out of the equation, going right back to the bottom line."
The system's "Fleet Box" solution not only controls all vehicle locks, but also helps manage real keys as well. Tagged keys can be left in secure, dedicated areas inside the cab and access can be granted via the app and a QR code. Real-time van checkup is also available through use of an optional telematic device that allows fleet managers to monitor dynamic vehicle information, such as GPS position, fuel consumption, average speed and more.
When functioning in a traditional delivery capacity, the system's self-locking "slam-lock" feature enables workers to get in and out quickly, in contrast to padlocks and other removable locks. The system also has an interior unlocking cable, so personnel can work in a secure vehicle if needed before exiting.
The lock's flush-mounted design eliminates exposed flanges and hasps, and its hardened stainless steel construction and domed shape make the lock drill resistant and difficult to grip with lock-defeating tools. Its low-profile design mates with virtually any vehicle make and model.
The UFO Cloud Lock and Vehicle Security System is perfect for applications on vans, service bodies and box trucks with side and rear double doors. It comes complete with an assembly kit, a video and an adhesive decal that makes precise placement and alignment simple. The kit also includes a bayonet mounting system for fast and easy installation. The entire installation process takes approximately one hour.
Parties interested in scheduling a demonstration of the UFO Cloud Lock and Vehicle Security System may contact National Fleet Products directly by calling (763) 762-3451 or by sending an email to sales(at)nationalfleetproducts.com. The UFO Cloud Lock and Vehicle Security System is in stock now and available in the United States and Canada through the company's extensive distribution network of convenient distribution locations. Please contact National Fleet Products to locate a distributor near you.
To access high-resolution product images of the UFO Cloud Lock and Vehicle Security System, please visit https://www.nationalfleetproducts.com/locks-media-links.
About National Fleet Products
National Fleet Products is a leading North American supplier of aftermarket accessories for commercial vehicles, including loading ramps, vehicle-mounted hoist systems, ladder racks, truck and trailer fenders, exterior vehicle security locks and suspension assist spring kits. The family-owned company serves as a North American master distributor for renowned European product lines such as Jonesco Plastics, WM System, MAD Tooling and Serrature Meroni. The company serves the United States and Canada through its extensive distribution network. Learn more at https://www.nationalfleetproducts.com.