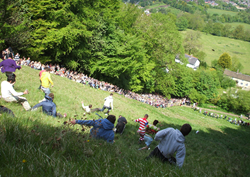 The famous Annual Cheese-Rolling Festival in Gloucestershire sees an 8lb 'wheel' of Double-Gloucester cheese rolled down a steep hill, hotly pursued by eager race participants.
(PRWEB UK) 24 April 2014
With the arrival of spring, Great Britain bursts into colour and life, shaking off the vestiges of another winter. Fields bloom with daffodils and spring lambs and as May approaches, blue skies and sunshine bring welcome warmth. Both on May Day, the first of May, and its associated Bank Holiday – the first Monday in the month – many events are held throughout the UK to herald the arrival of the new season. In the opinion of holiday rentals specialists AlphaHolidayLettings.com, the long May bank holiday weekend is the perfect time for a UK break and the chance to discover some of the celebrations and events – both traditional and modern – that take place this time each year.
In many of England's charming rural villages, for example, morris dancing and dancing around the Maypole are ancient customs which were believed to promote crop fertility and a good harvest for the coming year. But the May bank holiday sees all kinds of unique and wonderful festivities taking place, with something for everyone to enjoy.
The Annual Cheese-rolling Festival at Cooper's Hill, Gloucestershire, is an historic festival that has been established since the 1800s. The highlight is surely the famous cheese-rolling event in which, traditionally, an 8lb 'wheel' of Double-Gloucester cheese is rolled down the steep Cooper's Hill, hotly pursued by eager race participants. The good-natured event typically attracts thousands of spectators to this beautiful corner of England. Whereas in Wales, the Llandudno Victorian Extravaganza has been taking place at the May bank holiday weekend for almost thirty years. This fun and entertaining festival showcases the Victorian heritage and splendour of one of the most popular seaside resorts in north Wales. A teddy bear's picnic, daily parades, maypole dancing, street theatre, sandcastle competition, vintage car and bike rally and Grand Victorian Ball are just a few of the many attractions that guarantee the Llandudno Victorian Extravaganza provides a fantastic spring experience for all the family.
For something more in keeping with modern times, a brand-new charitable day out, the Great Hampstead Bark-Off, takes place on the 3rd of May 2014 on Hampstead Heath in London. The event is in aid of All Dogs Matter which rescues and re-homes dogs. A combined dog show and dog-themed baking competition – all in the name of fun, of course – plus lots of other attractions should ensure a great May bank holiday day out for those staying in the capital this spring.
Whether it's to enjoy one of the many fetes, festivals and celebrations taking place this May bank holiday or simply to enjoy a relaxing family holiday and admire Britain's beautiful coastal scenery or countryside, Alpha Holiday Lettings highlights a number of self catering holidays in the UK for the long weekend break:
Lostwithiel, Cornwall, England
Steeped in history, tradition and natural beauty the county of Cornwall is one of Britain's most popular holiday hotspots and the charming market town of Lostwithiel offers the perfect base for exploring coast, countryside and a host of local attractions including the world-famous Eden Project.
Property 14583: A traditional and comfortably furnished Cornish yurt (sleeps two) with countryside views and a short walk from town, from £280 - £455 per week
Weymouth, Dorset, England
Gateway to the beautiful and UNESCO-listed Jurassic Coast and its surrounding countryside, Weymouth is a popular and historic seaside resort with a stunning Georgian seafront, golden sandy beaches and a vast range of attractions and activities for everyone to enjoy.
Property 42497: A detached cottage in Dorset (sleeps 4) beside a lighthouse, with stunning sea views and easy access to local pubs, restaurants, shops and many outdoor activities, from £485 - £1495 per week.
Freshwater, Isle of Wight, England
Situated just off the central south coast of England the Isle of Wight has long been considered an idyllic holiday location thanks to its wonderful scenery and abundance of enjoyable things to see and do. Freshwater, on the island's western tip, is a quaint village set on a bay with a pebbled beach and backed by cliffs, and is a superb destination for a relaxing spring break.
Property 42722: An historic and pet-friendly cottage on the Isle of Wight (sleeps 7) with adjoining riding stables and easy access to local shops, attractions pubs and the beach, from £454 - £1162 per week.
About Alpha Holiday Lettings
Established in 2010, Alpha Holiday Lettings has rapidly become one of the most popular holiday rentals websites specialising in self-catering apartments, villas and holiday cottages in the UK, Spain, France, Portugal, Italy, Cyprus, Turkey and other destinations around the world. The majority of the properties listed on Alpha Holiday Lettings are privately owned and are booked directly with holiday home owners. For more information, visit http://www.AlphaHolidayLettings.com.