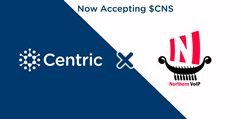 Northern VoIP is excited to offer customers a Centric Swap payment option, plus a five percent discount on products and services purchased with CNS.
LONDON (PRWEB) January 24, 2022
Northern VoIP of the Orkney Islands, Scotland now offers customers in the UK and around the world an option to pay with Centric Swap (CNS).
Through their VoIP Store, the company offers an extensive array of VoIP (Voice over IP) products from leading manufacturers. Beyond physical products, they provide numerous services, including both cloud hosted and on-premises phone systems, planning and design, installation, IT & Networking, and more.
Northern VoIP Owner David Johnson has owned and run several IT businesses since 2010. He founded the company in 2018, after a successful two decade career in the IT industry.
"Northern VoIP is excited to offer customers a Centric Swap payment option, plus a five percent discount on products and services purchased with CNS," said Johnson.
Centric's Chief Operating Officer Tommy Butcher said, "Northern VoIP offers an impressive selection of VoIP products for customers in the UK and beyond. If you have VoIP or IT needs, why not contact them for a free consultation?"
Learn more about Centric — https://www.centric.com
Read Centric's Whitepaper — https://www.centric.com/whitepaper
Visit Northern VoIP — https://www.northernvoip.co.uk
To stay in the loop on all the latest developments with Centric, readers can follow Centric on Twitter and join the announcement channel on Telegram.
About Centric
Centric was conceived with the vision of one day replacing traditional fiat currencies. Blockchain technology will enable a more transparent world and we believe our innovative approach to achieving widespread adoption long-term sets Centric apart from other cryptocurrencies today.
We believe the largest obstacle to the mass adoption of cryptocurrencies is price volatility. Cryptocurrencies, unlike fiat currencies, do not have a central bank to implement monetary policy focused on stabilizing purchasing power. Thus, changes in demand induce massive price fluctuations. The decentralized model to price discovery has made most existing cryptocurrencies nothing more than stocks or commodities, valued on psychology, traded on unregulated stock markets, and susceptible to manipulation. The lack of price stability has prevented credit and debt markets from forming because volatility incurs a premium.
While the rest of the industry focuses on transaction throughput and smart contracts, we focus on solving price stability to realize the economic capabilities that the blockchain enables.
About Northern VoIP
Northern VoIP offers cost-effective, reliable and advanced phone systems and VoIP services to businesses across the UK. Our online VoIP Store has over a thousand products with next day delivery available to the UK and shipping Worldwide.
We offer a variety of on-premise and cloud hosted phone system solutions suitable for different customer requirements and specifications. We supply and install Sangoma phone system solutions. They both provide a full range of powerful modern features with extensive built-in Unified Communication features. We also provide full consultancy services, planning & design, installation and excellent value user/call plans and support options.
We have many years experience working within the IT industry and offer this as an addition to our VoIP services. Combining this with our extensive range of VoIP equipment and accessories available through our online VoIP Store makes us the ideal Strategic Service Provider (SSP) allowing us to deliver your IT and VoIP solutions tailored to your business requirements.
Our customers are very important to us and our approach is highly focused on their ongoing needs and priorities. We always aim to provide a friendly and professional service to our customers and always ensure that we get to know about their businesses from the very first meeting. We offer free initial consultations and are happy to provide clearly detailed proposals for your IT and VoIP solutions.