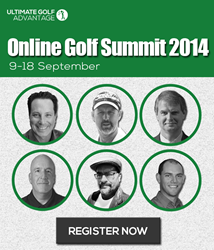 The Online Golf Summit is ideal for golfers who are looking to improve their game and lower their scores.
Manchester, United Kingdom (PRWEB) September 10, 2014
Ultimate Golf Advantage (UGA) today announce the launch of the Online Golf Summit 2014; offering insight and tips to help golfers improve their game. The Summit will be host to a range of expert panelists, holding training seminars on a variety of topics from September 9 - 18 - registration is open now at http://www.OnlineGolfSummit.com
UGA is hosting the Online Golf Summit to provide their growing community of passionate golfers with expert insight and advice to improve their game. Comprised of a series of free seminars, the Summit will feature a range of topics and speakers from both the US and UK. UGA representative, Alex Davidson commented:
"Many golfers waste thousands buying into over-hyped schemes promising to lower their scores." Mr. Davidson continued:
"We wanted to create a free event that put the emphasis back into the skill and fun of the game. The Summit not only gives golfers pro-level tips and training that they can use right away on the course, but also offers them a better insight into the golfing world."
Drawing on his years of experience as a golf player, commentator and author, Mr. Davidson helped organise the world class panel of golf experts to present over the coming fortnight. Among the panelists are Rick Sessinghaus and Michael Brantl, both of whom are well known experts in their respective fields.
The panel further comprises a mix of PGA professionals, coaches and authors speaking on a range of topics including the short game, mental game, fitness and equipment. Providing techniques and advice for golfers of all skill sets, the speakers offer a unique range of insight usually reserved for their high-paying clients.
Noting the difficulties that many golfers encounter on the course, Ultimate Golf Advantage are dedicated to offering practical, actionable advice to their growing audience of passionate golfers. Mr. Davidson commented:
"We draw on our own experiences to help other players. With the Summit, we are proud to introduce a series of seminars that reflect our dedication to offering valuable, real-world advice that golfers can really benefit from."
Through this event, UGA responds to the common concerns raised by their readers and provides their fixes. Mr. Davidson commented:
"The Online Golf Summit is ideal for golfers who are looking to improve their game and lower their scores."
Aiming to help dedicated golfers progress in their games, the Summit also offers golfers the opportunity to join UGA's rapidly expanding golfing community.
Although the Summit launches today, UGA will be keeping registration for the Summit open throughout the fortnight (September 9 - 18), and will allow registrants who are unable to attend special post-summit access to the seminars.
Registration for the Online Golf Summit 2014 is now open at http://www.OnlineGolfSummit.com
About Ultimate Golf Advantage:
Ultimate Golf Advantage was founded to cut through all the marketing and training noise that exists in the golfing industry.
The team behind Ultimate Golf Advantage is committed to offering genuine advice and insight to passionate golfers around the world who are serious about improving their game.
More information can be found at the Ultimate Golf Advantage website: http://www.UltimateGolfAdvantage.com/