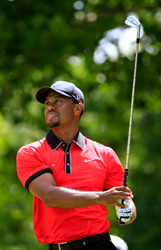 It would seem that Woods has more of an influence over the game than people realized
Manchester, United Kingdom (PRWEB) July 02, 2014
Golf Author, Alex Davidson, today releases a new interview on the return of Tiger Woods to golf. In his interview, Mr. Davidson discusses Woods' performance in his first game since undergoing surgery for a pinched nerve in his back and looks at what golfers can learn from how Woods played over the weekend - the interview is available in full at http://www.UltimateGolfAdvantage.com/interview-alex-davidson-talks-tiger-woods-return/
In a new interview released today, Alex Davidson, founder of Ultimate Golf Advantage and author of Think to Win: Mastering the Mental Side of Golf, discusses Tiger Woods' much-anticipated return to the sport after a substantial 3-month break following back surgery. Mr Davidson's new interview comes following what proved to be a difficult game for Woods as the full extent of the damage sustained by his injury became increasingly obvious.
Mr. Davidson explained that this new interview offers an in-depth analysis of Woods' performance and his wider influence on the sport as well as key takeaways from the weekend's action. Mr. Davidson commented:
"At UGA, we make it our primary focus to provide valuable advice around the latest news in the industry." He added, "Whether there are highs or lows, we always look for a lesson in the players' performances that can be of use to our readers and golf enthusiasts everywhere."
Examining Woods' unsteady performance at Quicken Loans National, Mr. Davidson discusses the stark contrast to the form we are used to from the former World No. 1 and talks about the extent of his physical disadvantage, noting that "this weekend was simply a reminder of the damage done, as Woods flopped - not even making the cut at the end of the second day."
However, Mr. Davidson also provides actionable advice to golfers and key takeaways from Woods' performance, despite his disappointing ranking. Mr. Davidson commented:
"Despite not making the cut, [Woods] remained positive throughout, merely assessing his performance and noting areas for improvement…Making a conscientious effort to use these moments to analyze your mistakes is an excellent opportunity to really improve your performance."
In his new interview, Mr. Davidson also discusses the influence that Woods has on the game and attributes the lagging interest in the sport partly to the recent negative media attention that Tiger Woods received surrounding his personal life. However, Mr. Davidson believes that Woods will continue to create interest in the sport. He commented:
Whatever the ultimate reason for Woods' influence on the game - all eyes will no doubt continue to remain fixed on the player as his recovery progresses…it'll be interesting to see whether Woods has been able to use those lessons learnt from his first tournament back."
Alex Davidson's latest interview is available now at the UGA website, at http://www.UltimateGolfAdvantage.com/interview-alex-davidson-talks-tiger-woods-return/
About Ultimate Golf Advantage:
Ultimate Golf Advantage was founded to cut through all the marketing and training noise that exists in the golfing industry.
The team behind Ultimate Golf Advantage is committed to offering genuine advice and insight to passionate golfers around the world who are serious about improving their game.
More information can be found at the Ultimate Golf Advantage website: http://www.UltimateGolfAdvantage.com/