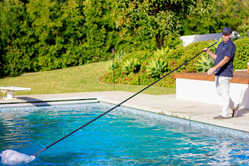 "We listened to customer feedback and created the 20ft Commercial HYPERPOLE, our longest HYPERPOLE yet. This specific HYPERPOLE has the highest strength to weight ratio, and uses our original Hyperdrain technology to reduce user fatigue, and increase productivity."
SAN DIEGO (PRWEB) January 28, 2021
The dedicated team at Ultimate Pool Tools, a group of seasoned pool care professionals from San Diego, California, recently expanded their revolutionary pool maintenance collection HYPERPOLE, to include a new 20ft Commercial pole.
Ultimate Pool Tools combines experienced mindsets to develop better pool care tools that deliver precision-crafted performance with ease. Their new 20ft Commercial HYPERPOLE is the longest pole yet from the HYPERPOLE collection.
The 3X20 Commercial HYPERPOLE features the same sleek and modern design, but at an extended length of 244" (20 ft.) and a collapsed length of 96". The length, along with the 3K Carbon Fiber Weave pole selections and slimline design, makes the pole super light and easy to articulate, resulting in quicker length adjustments. Featuring a state of the art stainless steel Hyperdrain and fill system, the 3x20 Commercial HYPERPOLE is extremely light weight with just the right amount of flexibility. The unique Hyperdrain technology reduces drag and water weight, allowing the pole to move effortlessly in and out of the pool.
The 20ft Commercial HYPERPOLE features the following patent-pending designs, making pool maintenance more efficient and enjoyable:

3K Twill Carbon Fiber Weave pole selections, high-strength and lightweight
130mm mass air transfer hand grip
2 right angle locking compression speed clamps that allow for rapid length selection
Stainless Steel Steel HyperDrain/ Fill Fitting System
"We listened to customer feedback and created the 20ft Commercial HYPERPOLE, our longest HYPERPOLE yet," says a representative from Ultimate Pool Tools. "This specific HYPERPOLE has the highest strength to weight ratio, and uses our original Hyperdrain technology to reduce user fatigue, and increase productivity."
Ultimate Pool Tools' 3x20 Commercial HYPERPOLE retails for $298 and is the strongest pool pole on the market. The 20ft Commercial HYPERPOLE is compatible with any additional pool tool without the use of an adapter. The full HYPERPOLE collection is available in three additional sizes that extend to 13 feet, 15 feet, and 17 feet, with prices ranging from $209 to $269.
For more information on the newest HYPERPOLE please visit http://www.ultimatepooltools.com or follow along on social media @ultimatepooltools.