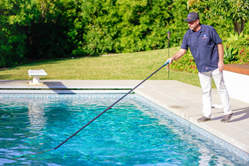 "The patent-pending design, specifically our original HyperDrain technology, reduces friction, drag, and most importantly, user fatigue, without compromising productivity."
LAGUNA BEACH, Calif. (PRWEB) September 10, 2020
The dedicated team at pool care company, Ultimate Pool Tools from San Diego, California, recently launched a revolutionary pool maintenance product - HYPERPOLE - that is gaining momentum just in time for the end-of-summer heat wave.
Ultimate Pool Tools is a group of seasoned pool care professionals who combine experienced mindsets to develop better pool tools that deliver precision-crafted performance with ease. Their newest creation? The HYPERPOLE.
The HYPERPOLE is the latest innovation in pool care technology that exhibits a sleek and modern design, designed and engineered to get the job done more efficiently. Featuring a state-of-the-art stainless steel HyperDrain and fill system with a mass air vent grip, along with 3K Weave Carbon Fiber Tubes, the HYPERPOLE is extremely light weight with just the right amount of flexibility. The HyperDrain reduces drag and water weight, allowing the pole to move effortlessly in and out of the pool. The 3K Carbon Fiber weave material and slimline design makes the pole easy to articulate and select length adjustments comfortably. This patent-pending design is what sets the HYPERPOLE apart from all other pool poles. In addition, its right-angle locking compression clamps, unique stainless steel HyperDrain, and filling system, help reduce user fatigue while increasing productivity.
HYPERPOLE features the following patent-pending designs aimed to make brushing, vacuuming, and netting the pool easier than ever before:

3K Carbon Fiber Weave Pole
Perpendicular Lever Compression Speed Clamps
Stainless Steel Steel Tool End Fitting
Hyper Drain/ Fill System
Mass Air Pinch Clamp Grip
"We created the HYPERPOLE for universal pool maintenance with user efficiency in mind," says Ken Howard, Founder of Ultimate Pool Tools. "The patent-pending design, specifically our original HyperDrain technology, reduces friction, drag, and most importantly, user fatigue, without compromising productivity."
Ultimate Pool Tools' HYPERPOLE collection is available in four sizes that extend to 13 feet, 15 feet, 17 feet, and 20 feet, with prices ranging from $189 to $289 respectively. The HYPERPOLE is the strongest pool pole on the market, and is compatible with any other pool care tool without the use of an adapter.
The best part? While the HYPERPOLE is essential for pool industry workers and pool professionals, it can also be used by the everyday consumer in their private backyard pool. HYPERPOLE is the perfect pool maintenance companion for just about anyone with a pool, and a must-have in any pool tool collection. Not only does the HYPERPOLE have a sleek and sophisticated design, but also, it cleans with ease making the act of cleaning much more enjoyable.
For more information on the revolutionary HYPERPOLE please visit http://www.ultimatepooltools.com or follow along on social media @ultimatepooltools.