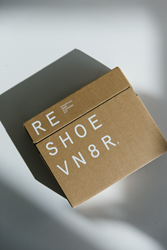 "What I love most about seeing the brand grow and flourish into what it is today, is all of the love and support that we get from our customers and from our fans," Founder Steve Grear said.
LOS ANGELES (PRWEB) March 30, 2020
Reshoevn8r is announcing the relaunching of its brand, focusing on new and improved designs including their patented sneaker laundry kit aimed at creating an easier and more efficient shoe cleaning experience. Part of the inspiration behind the relaunch is to provide customers with more content, resulting in a more inclusive relationship between them and the brand.
All business practices will be revamped, and improved social media platforms will release new content. The company's owner, 43-year-old Steve Grear, prides Reshoevn8r on its connections with followers and fans.
"What I love most about seeing the brand grow and flourish into what it is today, is all of the love and support that we get from our customers and from our fans," Grear said. "We really try to be as engaging as possible, and we believe in personal interactions with everyone who is with us on all of our platforms."
The premium shoe care company, which has over 1 million YouTube subscribers, will be creating videos with added pro tips to help guide their consumers in the shoe cleaning process. Reshoevn8r brand ambassador Vick Almighty has assembled some new "how to" sneaker restorations that will help inspire viewers to bring back life to their old pairs of sneakers.
Clients can also look forward to new and improved products, a more mature look and feel, and free shipping. Reshoevn8r's new products include laundry detergent pods, a sneaker cleaning mat, and acrylic display cases, with additional products set to release post launch.
The laundry pods are made with a special formula to clean and refresh your shoes in the washing machine. The transition from laundry detergent to pods makes for a more seamless process and the signature laundry kit sets itself apart from other shoe care products due to its effective deep cleaning capabilities. The mat is a recommended addition for any sneaker enthusiast that cherishes clean shoes. It is designed to help keep the counter clean during the cleaning process while absorbing up to a cup of water without any leaks. The new acrylic display cases feature a sleek, functional design and are a premier storage solution for all brands ranging from Nike, Adidas, Puma and Reebok, to Louis Vuitton, Gucci, YSL, and Off-White. The cases feature a drop face door, making for easy access and storage for shoes up to size 14.
Reshoevn8r has adjusted to its evolving base of customers, and popular shoe models like Yeezys, NMDs and Ultraboots require a more effective shoe cleaner because of their unique material. Reshoevn8r's patented laundry system is designed to clean these materials more effectively than anything else on the market.
Grear is excited about showcasing the rebrand -- which took more than a year -- and reaching new audiences with its more inclusive model. He is looking forward to receiving feedback from customers and being able to reach a new sneaker lover audience.
"As an entrepreneur, it is very fulfilling to see an idea grow from concept to reality," Grear said. "Each stepping stone along the way has been exciting, and each phase is simply a different chapter in the journey. The challenges in the beginning are different than the ones you face after having some success."
Grear says that all of the products have been improved or updated in some shape or form, and that there is no better time to take everything to the next level. The company has always been authentic and caters to the needs of its customers.
In addition to the company's relaunch, Reshoevn8r has also become increasingly involved in philanthropy and giving back to the community. Philanthropy is important to the company and something that it plans to do a lot more of in the future. Reshoevn8r has been involved with a handful of local and international charities -- including Bata Sole, a Chicago based non-profit that donates new and gently used sneakers to kids in the Philippines. Since 2017, Bata Sole has distributed more than 5,000 pairs of athletic shoes locally and globally to people in need. Last year, Reshoevn8r went on a missionary trip to provide shoes to more than 2,500 villagers in the Philippines who were shoeless.
About Reshoevn8r
Reshoevn8r was founded in 2011 and has sold over 1,000,000 units, making the company one of the top premium shoe care brands in the world. Reshoevn8r is 100% all-natural, made with non-toxic ingredients like coconut, jojoba, and other natural oils. Reshoevn8r can be purchased directly on its website and retailers that sell the products include Urban Outfitters, Nohble, Restock, KicksUSA, and many small sneaker boutiques around the country. For more information about Reshoevn8r, visit reshoevn8r.com