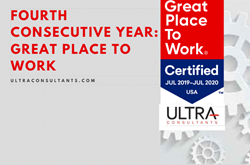 This is important to us because we know that when our employees have a high-trust experience every day they are more productive, drive better business results and make a difference to our clients
OAK BROOK, Ill. (PRWEB) July 24, 2019
Ultra Consultants, Inc., an independent research and enterprise solutions consulting firm serving the manufacturing and distribution industries, today announced that it is Great Place to Work-Certified™. Certification is a significant achievement accomplished using validated employee feedback gathered with Great Place to Work's data-driven methodology. Certification confirms employees have a consistently positive experience at Ultra Consultants. Great Place to Work is the global authority on workplace culture, employee experience and the leadership behaviors proven to deliver market-leading revenue and increased innovation.
Employee surveys confirmed Ultra Consultants employees are highly satisfied with Ultra's unique "work anywhere" remote setting, company philanthropy programs such as "Ultra Gives Back," Ultra Steps fitness program, as well as other programs encouraging employee morale and motivation.
"We are thrilled to be Great Place to Work-Certified™," says Jeff Carr, Founder and CEO of Ultra Consultants. "It's the fourth year in a row we've achieved this designation, which reflects our priority to consistently providing employees a positive experience with their coworkers, their leaders and with their jobs. This is important to us because we know that when our employees have a high-trust experience every day they are more productive, drive better business results and make a difference to our clients."
"We congratulate Ultra Consultants, on their Certification," said Sarah Lewis-Kulin, Vice President of Best Workplace List Research at Great Place to Work. "Organizations that earn their employees' trust create great workplace cultures that deliver outstanding business results."
About Great Place to Work
Great Place to Work® is a global people analytics and consulting firm that helps companies of all sizes produce better business results by focusing on the work experience for every employee—our research shows there's a clear and direct relationship between employee engagement and financial performance. Through our Certification programs, we recognize outstanding workplaces and produce Fortune's annual list of the 100 Best Companies to Work For, as well as a variety of other Best Workplace rankings in the United States and in more than 60 other countries.
About Ultra Consultants
Ultra Consultants is an independent research and enterprise solutions consulting firm serving the manufacturing and distribution industries throughout North America, as well as companies with global operations. Since 1994, Ultra has delivered enterprise technology expertise and process management to drive business performance improvement for our clients. More information on the company's services, leadership, industry verticals served, and software vendor relationships can be found at http://www.ultraconsultants.com.