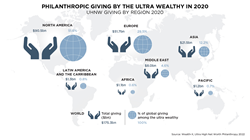 NEW YORK (PRWEB) January 27, 2022
Wealth-X, the world's leading provider of data and insight on the wealthy, today released Ultra High Net Worth Philanthropy 2022. This is the sixth report published by Wealth-X on philanthropic giving and it examines trends amongst the ultra high net worth population (UHNW), individuals with $30 million or more in net worth.
Global philanthropic giving around the world totaled approximately $750 billion in 2020. This giving goes towards causes as diverse as education, healthcare, the arts, housing, social equality, climate change and the environment.
In terms of the total amount given solely by private individuals in 2020, contributions from the ultra wealthy and their private foundations accounted for a substantial 36% share, underlining the hugely important role of the UHNW class in global philanthropic activity.
Key findings from the Ultra High Net Worth Philanthropy 2022 report include –

Growth in giving by the ultra wealthy outpaced that from other sources in 2020
North America accounted for more than half of all global ultra wealthy donations, at $91 billion, which reflects the region's elevated wealth and its longstanding tradition of public giving
Europe's ultra wealthy gave a total of $52bn in 2020, equating to a third of global UHNW giving
UHNW individuals with private charitable foundations are different to other major philanthropists
Ultra High Net Worth Philanthropy 2022 also reveals key differences in giving by region, across age, gender, industry affiliation, source of wealth and more.
The ultra wealthy have become progressively more involved in philanthropy over the past decade. This has occurred alongside the rapid growth of the global UHNW population and its cumulative net worth.
Given that sources of philanthropic funding are likely to remain constrained for the foreseeable future, giving by the ultra wealthy continues to offer significant growth potential, making this report an essential read for all organizations that prospect for and engage with the wealthy.
Access the complete findings and download Ultra High Net Worth Philanthropy 2022 today.
About Wealth-X
The global leader in wealth information and insight, Wealth-X partners with prestige brands across the financial services, luxury, nonprofit and higher-education industries to fuel strategic decision-making in sales, marketing and compliance. Wealth-X has developed the world's largest collection of records on wealthy individuals and produces unparalleled data analysis to help organizations uncover, understand, and engage their target audience, as well as mitigate risk. Founded in 2010, with staff across North America, Europe and Asia, Wealth-X provides unique data, analysis, and counsel to a growing roster of over 500 clients worldwide.
About Euromoney People Intelligence
Euromoney People Intelligence, a Pillar of Euromoney PLC, provides organizations with unique data intelligence that connects them with the individuals who will have the greatest impact on their goals. Euromoney People Intelligence is comprised of four unique brands: BoardEx, Relationship Science, WealthEngine, and Wealth-X. We empower our clients to build greater relationships, obtain and manage their best talent and reduce commercial risk.