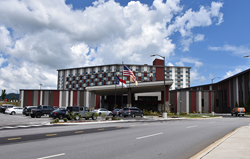 MURPHY, N.C. (PRWEB) July 19, 2018
Harrah's Cherokee Valley River Casino, construction/design teams, and guests celebrated the grand opening of the new bowling and entertainment center addition on July 18 in Murphy, North Carolina.
The 41,000-square-foot Ultrastar Mutli-tainment Center at Harrah's Cherokee Valley River Casino brings a bowling center with 16 lanes and a 2,200-square-foot arcade to the Murphy area for family-friendly activities. On the opposite side, the addition also houses the casino's first full-service restaurant, with a nearly 260-seat capacity. Two bars were included in the new construction, one to service the bowling center, the other near the restaurant to service both waiting restaurant guests and gaming participants. There will also be 24 new Tesla charging stations added to the parking lot for guest use.
Robins & Morton of Birmingham, Alabama, served as the general contractor and Brunswick Bowling Products of Muskegon, Michigan, served as the construction manager. Paradigm Design, Inc., of Grand Rapids, Michigan, provided design and architecture services for the project. The facility is scheduled to open July 24 and will be managed by Ultrastar Multi-tainment Centers of Phoenix, Arizona.
# # #
About Robins & Morton
Founded in 1946, Robins & Morton is a privately held construction firm that consistently ranks among the 100 largest U.S. contractors in Engineering News-Record Magazine. The company has also been named one of the best mid-sized companies to work for in America because of its worker-friendly and family-friendly practices. Robins & Morton is based in Birmingham, Alabama, with offices in Dallas, Texas; Huntsville, Alabama; Orlando and Miami Florida; Nashville, Tennessee; Charlotte, North Carolina. For more information, visit http://www.robinsmorton.com
About Harrah's Cherokee Valley River Casino & Hotel:
An Enterprise of the Eastern Band of Cherokee Indians, Harrah's Cherokee Valley River Casino & Hotel is located near Murphy, North Carolina. The Cherokee County, NC facility features 50,000 square feet of gaming space with over 1,000 slot games and 70 traditional table games, The Food Market and a 300-room, full service hotel.