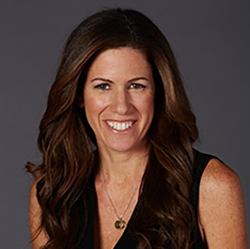 NEW YORK (PRWEB) December 03, 2018
UM, a division of IPG Mediabrands, announced today the appointment of Lynn Lewis to U.S. CEO. An employee of fifteen years standing at UM, Lewis has held multiple leadership positions throughout the agency. Most recently, she served as UM's East Coast regional president and global CMO. During that time, she cultivated the culture and capabilities of all of UM's East Coast offices and provided executive leadership across UM's East Coast client portfolio including UM's bespoke unit dedicated to Coca-Cola, the Coca-Cola Connections Studio. Simultaneously, she oversaw all of UM's global marketing efforts, helping to define the agency's brand positioning, awards strategy and philanthropic initiatives.
"I am incredibly proud to name Lynn as U.S. CEO," said Daryl Lee, global CEO, UM. "She is a homegrown leader who has built a loyal following at UM based on her unparalleled client partnership, strategic marketing savvy and amazing ability to build and inspire high-performance teams. She is taking on an agency that has tremendous momentum, and I know she will use her considerable talents to make UM even better!"
Lynn's career at UM includes building and running J3, UM's dedicated media unit servicing Johnson & Johnson, where Lewis pioneered an integrated planning, buying and analytics model which has successfully scaled across all of UM's accounts. Prior to taking the helm at J3, she worked as the global managing partner on Sony at UM. On the creative agency side, she spent ten years as an account director at McCann Erickson overseeing a variety of marquee accounts.
This appointment comes on the heels of a number of key new business wins for UM, including American Express, Quicken Loans, Columbia Sportswear, Henkel and the successful defense of Charles Schwab.
About UM
UM is a strategic media agency committed to proving that media is a topline growth driver as much as an efficiency play. We believe that better science and better art deliver better outcomes for our clients. We deliver science through the transformational power of business analytics and real-time data intelligence. We deliver art through creating moments that matter in media to deliver momentum for brands. As the leading global media network in IPG Mediabrands, UM operates in over 100 countries, with more than 5,000 people innovating on a roster of global clients including Accenture, BMW, Coach, Coca-Cola, ExxonMobil, Fiat Chrysler Automobiles, Fitbit, GoPro, Johnson & Johnson, Sony, Spotify and The Hershey Company.