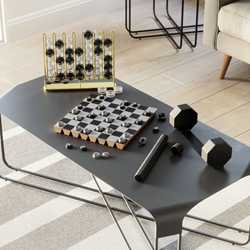 TORONTO (PRWEB) November 01, 2021
ROLZ is both Chess and Checkers, featuring a durable, vegan leather board and double-sided, silk-screened resin game pieces. With a unique roll-up design, ROLZ is made for fun on the go, and its distinct, checkered profile makes it an attractive conversation-starter for any space. Imagined by Umbra's Vice President of Design, Matt Carr, ROLZ is whimsical, durable and extremely giftable.
STAX is 4 in a Row like it has never been seen before. Beautifully crafted in brass with frosted playing pieces, STAX blurs the line between entertainment and decor, a game that never needs to be put away. Umbra's senior lead designer Sung Wook Park created STAX with all your favourite rooms in mind, not just the game room.
Playful and inspired, these new classics are perfect for holiday gifting. Time-tested for fun and updated with a modern twist by Umbra's skilled design team, these games will be enjoyed by every generation for generations.
ROLZ ($120 CAD) and STAX ($60 CAD) are available now at Umbra.com and retailers worldwide.
About Umbra
Based in Toronto, Canada, Umbra is a global design leader, selling in over 120 countries with offices in Europe, Canada, the United States, Brazil and China. Umbra's international team of designers brings thought and creativity to everyday items, creating original, modern and functional products that stand the test of time.
Product Information
ROLZ Chess and Checkers Set
A fun game for on the go or at home, ROLZ is a portable chess and checkers set with a solid beech wood base. Easily rolling up, ROLZ keeps all the set pieces together in one place for compact storage.

Resin checkers with silk-screened chess characters
Vegan leather with a wooden base
Makes for a perfect playful gift
Comes with all necessary chess pieces and a storage compartment for ease of carrying
Design: Matt Carr
SRP: $120 CAD
Link: https://www.umbra.com/products/rolz-chess-checkers-set
STAX 4 In a Row
A fun game for any occasion, STAX is perfect for all ages. With a metal plated finish and frosted playing pieces, this game also doubles as a unique piece of décor to display in your home.

A fun multi-player game for everyone to enjoy
Makes for a perfect gift
Modern metal finish with frosted playing pieces
Weighted base for added stability
Design: Sung Wook Park
SRP: $60 CAD
Link: https://ca.umbra.com/products/rolz-chess-checkers-set