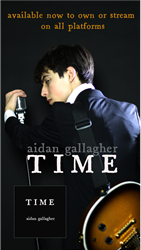 Gallagher says, "I wrote TIME while I was filming 'The Umbrella Academy' and it is a tribute to the journey of my character on the show as well as to the music of My Chemical Romance, but it is also about the idea of living fully in the present moment."
LOS ANGELES (PRWEB) May 19, 2019
Aidan Gallagher has premiered his latest pop single TIME on the artist's YouTube channel along with streamers Spotify and Apple Music. A singer-songwriter and musician, Gallagher describes the song as a pop-punk ballad inspired by his acting work. It was recently announced that the teen actor will reprise his starring role as fan favorite Number Five in the upcoming second season of Netflix's mega-hit series "The Umbrella Academy".
Gallagher says, "I wrote TIME while I was filming 'The Umbrella Academy' and it is a tribute to the journey of my character on the show as well as to the music of My Chemical Romance, but it is also about the idea of living fully in the present moment." TIME's music video can be viewed on the actor's YouTube and has already racked up an impressive following in its first week of release.
In February 2019, Pop Buzz Magazine said, "Aidan isn't currently signed to any label, but we imagine that it's only a matter of time."
2019 has seen the launch of Gallagher's singer-songwriter music career with the haunting BLUE NEON CLUB VERSION, a dream pop indie that reached over 1.1 million music streams in its first 100 days. He also co-wrote and debuted MISS YOU, a duet with singer Trinity Rose that tells a story about love broken apart by distance. His next announced release after TIME is FOR YOU, a self-produced heartbreaker dropping on June 7, 2019. Gallagher is currently in the studio producing more songs in preparation for a tour in 2020.