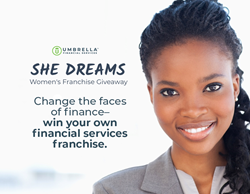 "We want to change the game for women in finance," says Kevin Murphy, founder of Umbrella Financial Services. "Umbrella already has a history of empowering female entrepreneurs, and we've designed the She Dreams Contest to help more women become leaders in the tax and financial services industry."
ARLINGTON, Texas (PRWEB) November 30, 2018
In light of the disparity of female-to-male executives in the financial industry, Umbrella Financial Services announces its 'She Dreams' Women's Franchise Giveaway Contest, giving women across the U.S. the opportunity to win and build their own financial services business.
The contest is open to all eligible women who are interested in becoming an independent business owner with the country's leader in tax preparation franchises. Two deserving woman will be awarded a free Vtax franchise which comes with marketing tools, technology, training and business systems, mentorship and leveraging Umbrella's flexible, tech-forward business model to manage their business from the comfort of home.
"We want to change the game for women in finance," says Kevin Murphy, founder of Umbrella Financial Services. "Umbrella already has a history of empowering female entrepreneurs, and we've designed the She Dreams Contest to help more women become leaders in the tax and financial services industry."
According to the 2017 World Economic Forum's Global Gender Gap Report, "Female talent remains one of the most underutilized business resources" which is especially true in finance. As career level rises for finance professionals, female representation declines. Although 46 percent of financial services employees are women, at the executive level, it's only 15 percent. Umbrella Financial Services is setting a new standard where women make up 40% of its franchisee owners.
To enter Umbrella's She Dreams Contest, women are invited to submit a photograph and essay about owning their dream business on the contest website by Sunday, December 30, 2018 at 11:59 p.m. PST. Two finalists will be selected and interviewed by the leading female entrepreneurs from Umbrella International Group.
###
About Umbrella Financial Services– Umbrella Financial Services was founded in 2010 by former corporate marketing executive Kevin Murphy (formerly of MCI Worldcom, Nortel Communications, Sprint). He packaged proven best practices, industry secrets and skills needed to be successful in the tax services business into an easy-to-follow formula and thus, Umbrella Taxes was founded. Umbrella Tax Solutions challenges the shortcomings of starting a tax services business by removing the barriers to entry and excessive fees, providing a more accessible, personalized, low-cost solution to motivated entrepreneurs. Headquartered in Arlington, Texas, Umbrella has launched three unique business models, mentoring more than 1,500 franchise owners nationwide under various family brands including Integrity Tax Returns, Experto Income Tax, Reliable Refund and Xpert Taxes which have been responsible for processing more than 500,000 individual tax returns. Umbrella Financial Services is a member of the Better Business Bureau, an IRS Authorized E-file Provider, Licensed Continuing Education Provider (PAX2G), Member of CERCA (Council for Electronic Revenue Communication Advancement), Member of NATP (National Association of Tax Professionals), Member of National Society of Accountants and Member of National Society of Tax Professionals. In 2018, Umbrella Financial Services expanded to offer financial services to better serve its business owners and community and pursue its vision to make financial wellness more accessible to all. For more information, contact Kevin Murphy at kevin(at)umbrellataxes.com.