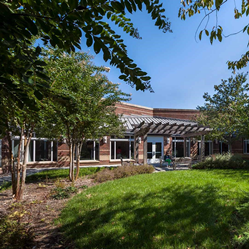 "This question about dosage gets asked a lot, and what's exciting to me is that we used to have to demonstrate that nature was restorative," explains Naomi Sachs, UMD. "For the most part, those benefits are accepted. But now the question is: How does nature do this? How much? In what way?"
COLLEGE PARK, Md. (PRWEB) April 03, 2020
In a new collaborative study out of the University of Maryland (UMD) and Cornell University, researchers find that as little as 10 minutes of leisure time experiencing nature can measurably improve your mental health and well-being. With suicide rates on the rise alongside increased urbanization, there has been a boom in recent research showcasing the positive health benefits of natural settings on mental and physical health markers. However, little work has been done to quantify the actual "dose" of nature you need to experience these effects. With this new paper published in Frontiers in Psychology, researchers are hoping to guide future research and establish dosages to help revolutionize what a prescription to reduce stress and improve mental health can look like, particularly among the highly stressed college student population.
"This question about dosage gets asked a lot, and what's exciting to me is that we used to have to demonstrate that nature was restorative," explains Naomi Sachs, assistant professor of Landscape Architecture at UMD. "For the most part, those benefits are accepted. But now the question is: How does nature do this? How much? In what way?"
In this scoping review of the current literature on the topic, Sachs and colleagues at Cornell have pulled together studies from around the world to help determine how much nature is the minimum dosage, and identify what the field needs to continue to answer these questions. As a larger goal, researchers hope to move towards a more holistic approach to health that prescribes time in nature alongside or as an alternative to traditional pharmacological options.
"We rely greatly in our culture on pharma approaches to both physical and mental health problems, and as we know, those medications come with very specific dosages," says Donald Rakow, associate professor of horticulture at Cornell. "Until recently, there has been nothing analogous to prescribing time in nature, but this review helps move us in that direction."
In fact, Rakow not only heads up a program called NatureRx@Cornell that directs students to particularly beautiful natural settings around campus for stress relief and mental wellbeing, but he also heads the Campus NatureRx Network of 20 colleges around the country and in Canada that are adopting similar programs, including UMD. At Cornell, health center practitioners are already prescribing time in nature as part of students' electronic health records, and the goal is to do the same at UMD with our NatureRx@UMD program, led by Jennifer Roberts, assistant professor in the School of Public Health.
Roberts explains, "NatureRx@UMD is an initiative that emphasizes the benefits of the natural environments throughout and around the UMD campus in an effort to address the array of health and well-being issues faced by students and greater campus community. The rising trends in mental health issues, specifically suicide, among college students is presented as one of the many reasons for the need of NatureRx@UMD and the like across college campuses. The gains from NatureRx@UMD are both promising and endless."
Rakow adds, "While our entire culture is showing evidence of increased stress, we feel that college students are particularly susceptible to psychologically related disorders: everything from the social isolation caused by social media, to intense competition, to grades and academic success, to financial vulnerability. These and other factors cause incredibly high stress among college aged students."
According to Healthline, mental illness and stress levels among college students are reportedly high, with recent reports showing up to 40% of college students struggling with at least one diagnosable mental illness, and the rate of suicidal thoughts jumping to 11%. Suicide is the second leading cause of death among college students, spurring on UMD's commitment to this type of research and programs like NatureRx.
"If a student can know that nature is good for them and has 10 minutes to go to lunch or get to class, they can choose to take a more nature rich path and pay a little bit more attention to their surroundings to be in that natural experience and get the benefits," says Sachs. "And that benefit is not just an emotional benefit, it is also a cognitive benefit. Test scores improve, they can better retain and process information - all these things that college students really need." Rakow adds, "Every campus, no matter how urban, has some greenspaces, and students and other members of the campus community just need to seek those out."
UMD has many advantages as a green campus, including its distinction as a nationally recognized Arboretum & Botanical Garden. "The whole campus is an arboretum, which is amazing that we have that resource here," says Sachs. With UMD striving to maintain a richly green campus among continued growth as an institution and added connectivity brought by the construction of a new DC metro line, this research can help give credence to initiatives like the AgroEcology Corridor. This multidisciplinary initiative spearheaded by the College of Agriculture & Natural Resources and supported across the university reimagines UMD's campus as a living-learning environment prioritizing interactive and educational green space.
Meg Smolinski serves as outreach coordinator for the Arboretum & Botanical Gardens at UMD, and is on the UMD board for NatureRx. "There are countless studies citing the immense pressures college students face, but also an equal number of studies showing that time in nature can help alleviate stress. Our students have the benefit of living and studying in an award-winning arboretum. As part of the NatureRx team and a supporter of the AgroEcology Corridor, the Arboretum provides hands-on opportunities to plant a tree, grow vegetables, or simply take a walk with one of our arborists and learn about our campus ecosystem."
One of Sachs' graduate students in Landscape Architecture, Sarah Wallace, is working to design a new therapeutic space for the AgroEcology Corridor. In addition to this work, Sachs and the team at Cornell will continue to explore the many benefits of exposure to nature, looking for more specifics on how different types of natural settings affect people's health, as well as how socializing in nature versus active engagement with your surroundings affects the dosage and benefits received.
This paper entitled, "Minimum Time Dose in Nature to Positively Impact the Mental Health of College-Aged Students, and How to Measure It: A Scoping Review," is published in Frontiers in Psychology. https://doi.org/10.3389/fpsyg.2019.02942