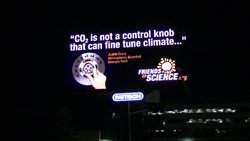 that governments like the province of Alberta are willing to employ mass public climate indoctrination specialists like former Greenpeace activist, Climate George, shows to what bizarre degree media and governments have been unethically co-opted in "climatology ideology."
CALGARY, Alberta (PRWEB) October 04, 2018
As reported by NHK World, Japan on Oct. 1, 2018, the Intergovernmental Panel on Climate Change (IPCC) is conducting another climate conference in the Republic of South Korea (ROK), a meeting condemned by Friends of Science Society as hypocritical, unethical and unscientific.
Friends of Science Society says if the IPCC participants were serious about their claims of greenhouse gases warming the world, they would stop flying thousands of people to conferences every few weeks. The Bangkok, Thailand conference was held in September; COP-24 will be in December in Katowice, Poland.
The South Korean meeting is to address an interim Summary for Policy Makers report (SPM) on potential consequences of not meeting the 1.5-degree Celsius temperature target set by the Paris COP-21 Agreement. Friends of Science Society says the original 2-degree Celsius target is a delusion and was set arbitrarily, as reported by Foreign Affairs, Feb. 8, 2018.
At the recent Porto Climate Conference, Sept, 7-8, 2018, numerous scientists challenged the so-called 'consensus' on climate.
Several mathematicians and complex systems experts denounced the IPCC reliance on faulty computer models. Dr. Hans Jelbring, Swedish climatologist, disputed the greenhouse gas theory as the overriding driver of climate change. Dr. Nils-Axel Morner, Pamela Matlock-Klein and Dr. Thomas Wysmuller demonstrated that the rate of global sea level rise is small and stable; island nations are not at risk.
Friends of Science questions how small islands like the Maldives can unethically demand climate change money from the west, when they are busy building a new airport runway on a low level island to fly in thousands of tourists by jumbo jet, as reported by The Holiday Place, Nov. 17, 2017.
A study by Kensch et al (2018) published this year in Nature Communications found that 8 of the 9 atolls and almost three-quarters of the 101 reef islands of Tuvalu grew in size between 1971 and 2014, increasing Tuvalu's total land area by 2.9%.
Media outlets like the BBC are now unwilling to engage in open debate on climate science, as reported by The Conservative Woman, Sept. 22, 2018. Governments like the province of Alberta are willing to employ mass public climate indoctrination specialists like former Greenpeace activist, Climate George, as reported on Friends of Science blog by William Kay, Oct. 2, 2018. These show to what bizarre degree media and governments have been unethically co-opted in "climatology ideology."
In November, 2015, the IPCC told Friends of Science Society that it has no peer-reviewed papers to support the claim in the SPM that 'wide-scale deployment of renewables' (wind and solar) can adequately replace coal or natural gas or reduce carbon dioxide, yet it continues to feature this as a 'solution' in all its Summary for Policy Makers.
In the leaked document of June 26, 2018, reported by Climate Home News, in Point C3.2, the IPCC claims that "..by 2050 renewables are expected to supply 49-67% of primary energy while coal would supply 1-7%."
Friends of Science Society says no credible research supports this claim.
The original premise of the United Nations Framework Convention on Climate Change – the mandate under which the IPCC was established was to lead to "…the stabilization of greenhouse gas concentrations in the atmosphere at a level that would prevent dangerous anthropogenic interference with the climate system."
After some 20 years of no statistically significant warming, despite an increase in human industrial greenhouse gas emissions, Friends of Science says it is clear that the sun and other natural internal variable forces drive climate. Reducing carbon dioxide is an exercise in futility and a 2 degree-C target, controllable by humans, a delusion.
The "climate change" needed is political - to disband the IPCC and the UNFCCC, says Friends of Science, and to stop them flying to global climate conferences every other month.
About
Friends of Science Society is an independent group of earth, atmospheric and solar scientists, engineers, and citizens who are celebrating its 16th year of offering climate science insights. After a thorough review of a broad spectrum of literature on climate change, Friends of Science Society has concluded that the sun is the main driver of climate change, not carbon dioxide (CO2).
Friends of Science Society
P.O. Box 23167, Mission P.O.
Calgary, Alberta
Canada T2S 3B1
Toll-free Telephone: 1-888-789-9597
Web: friendsofscience.org
E-mail: contact(at)friendsofscience(dot)org
Web: climatechange101.ca