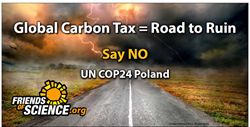 Instituting a global carbon tax law would entrench the faulty scientific premise that carbon dioxide is a control knob that can control climate and that taxing "...the lack of delivery of an invisible substance to no one" is of any value to hardworking middle class and poor people
CALGARY, Alta. (PRWEB) November 29, 2018
In an Open Letter posted on-line Nov. 28, 2018, Friends of Science Society is calling for the IPCC, the UN Climate Change Panel, to retract the Oct. 8, 2018, SR15 report on grounds that it promotes crimes against humanity. As early as Oct. 26, 2007, Jean Ziegler, the UN Special Rapporteur on the right to food, denounced the practice of biofuels – growing crops to burn as fuel – as a crime against humanity. The IPCC SR15 report expands the notion of biofuels for a process called Bio Energy Carbon Capture Storage (BECCS).
In the August 2018 edition of Issues in Science and Technology, climate policy analyst Roger Pielke, Jr. denounced BECCS as an unvetted idea with no operational pilot that, at scale, would take up land one and a half times the size of India.
Instituting a global carbon tax law would entrench the faulty scientific premise that carbon dioxide is a control knob that can control climate and the nonsensical idea that taxing it can change the climate, says Friends of Science. It would encourage carbon taxes that hit hardworking middle class and poor people. It would drive questionable carbon trading markets, described as: "the lack of delivery of an invisible substance to no one" referring to "Conning the Climate," Harper's Magazine, Feb. 2010.
Friends of Science Society says the IPCC SR15 lacks due diligence and suffers from negligent review of material about the effectiveness of wind and solar, referring to their published correspondence with Jonathan Lynn, Head, Communications and Media Relations for the IPCC, of Nov. 5, 2015. At that time Mr. Lynn had indicated the IPCC did not have any peer-reviewed materials supporting the claim that decarbonizing the electricity sector was a cost-effective mitigation strategy, claiming such information had not been available at publication time, but would be part of future reports.
Numerous peer-reviewed papers and books show that wind and solar are not cost-effective nor can they replace conventional electricity generation, as detailed in Friends of Science new report, "In the Dark on Renewables: Rebutting Deloitte Insights and Climate Reality." Most countries that have incorporated wind and solar to decarbonize electricity generation have seen power prices skyrocket. This is contrary to UN Charter founding principles that the alliance is to promote socio-economic development, not decimate it, says Friends of Science in their letter.
Friends of Science Society also denounce the apparent conflicts of interest in the ClimateWorks Foundation and its billionaire partners funding environmental groups to agitate for climate, energy and carbon policies that favor investments of billionaires, disrespecting domestic sovereignty.
Friends of Science Society are running a new billboard campaign stating that "Global carbon tax is a road to ruin." A second billboard features a dramatic image of the sun compared to the earth. This visually suggests that citizens consider the relative influence of the sun's numerous cycles on a tiny earth, with the message: "Climate – Change Your Mind; Is it you? Is it really CO2?"
About
Friends of Science Society is an independent group of earth, atmospheric and solar scientists, engineers, and citizens who are celebrating its 16th year of offering climate science insights. After a thorough review of a broad spectrum of literature on climate change, Friends of Science Society has concluded that the sun is the main driver of climate change, not carbon dioxide (CO2).
Friends of Science Society
P.O. Box 23167, Mission P.O.
Calgary, Alberta
Canada T2S 3B1
Toll-free Telephone: 1-888-789-9597
Web: friendsofscience.org
E-mail: contact(at)friendsofscience(dot)org
Web: climatechange101.ca