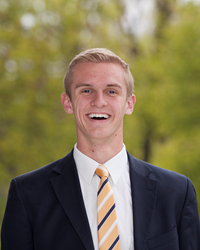 WASHINGTON (PRWEB) July 19, 2018
The United Nations Association of the USA (UNA-USA) in partnership with the U.S. Department of State, is pleased to announce the selection of Michael Scott Peters of Utah as the 2018-2019 U.S. Youth Observer to the United Nations. Mr. Peters was chosen from a competitive pool of young Americans between the ages of 18-25 from across the country.
Mr. Peters graduated Summa Cum Laude from Utah State University, where he earned a double major in International Business and Marketing while serving as Student Body President. As the President of the Utah Student Association for the 2017-2018 school year, he helped spearhead a statewide voter participation campaign engaging 180,000 students. Mr. Peters is a committed advocate for human rights, and is particularly passionate about raising global awareness on human trafficking through his work as a volunteer for Operation Underground Railroad.
The U.S. Youth Observer to the United Nations program was launched in 2012 to increase youth engagement in global affairs. As the Youth Observer, Mr. Peters will represent American youth at the 73rd UN General Assembly in New York and other UN events throughout the coming year, traveling within the United States and overseas to share his impressions and experiences and learn from those of others. Mr. Peters succeeds Ms. Munira Khalif in the Observer role.
Complete details about the U.S. Youth Observer program are available here: http://genun.unausa.org/youth_observer
Follow the program and the Department of State's multilateral engagements on Twitter at @USYouthObserver and @State_IO.
For media inquiries, please contact:
UNA-USA
Cassie Ann Hodges
Communications Officer, UNA-USA
chodges(at)unfoundation.org
202-552-8845
U.S. Department of State
IO-Press-DL(at)state.gov
About UNA-USA:
The United Nations Association of the United States of America (UNA-USA) is a 50-state grassroots organization dedicated to inform, inspire, and mobilize the American people to support the ideals and vital work of the United Nations. For more than 70 years, UNA-USA has worked to accomplish its mission through its national network of Chapters, youth engagement, advocacy efforts, education programs, and public events. UNA-USA is a program of the United Nations Foundation.