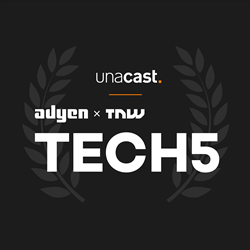 Receiving this award is validation that we are heading in the right direction.
NEW YORK (PRWEB) January 30, 2020
Unacast is proud to announce its inclusion as one of Adyen and The Next Web's top scale-ups as part of Tech5 2020.
About the competition: Tech5 is the leading showcase for Europe's fastest growing scale-ups, giving them the opportunity to join a network of the best companies, investors, and experts from across the continent.
Unacast is an industry-leading human mobility data company that combines location data, map data, and strategic intelligence to generate the most accurate picture of real-world human activity. With its flagship product the Real World Graph®, Unacast helps companies in the retail and real estate industries use human mobility data to improve their properties & portfolios and expand their understanding of customers' offline activities, as well as helping them identify macro trends, the impacts of advertising, and optimization opportunities. Unacast was founded in 2014 with offices in Oslo and New York.
"To be considered for this award is a great honor," said Kjartan Slette, COO and Co-Founder at Unacast. "We have a big focus on our Norweigan origins and using our company for good. Receiving this award is validation that we are heading in the right direction."
Among the winners is Chooose, a firm committed to combating climate change by offsetting carbon footprints and removing air pollution from the atmosphere. Unacast has partnered with Chooose to offset the climate and carbon footprint that Unacast makes on the planet.
Find more information on: https://tech5.io/
#####
About the Real World Graph®
The Real World Graph® is an interconnected system of data sets that understands human mobility in the physical world using a combination of map data, location data, and strategic insights. The Real World Graph® leverages a quality data set with the highest privacy standards and powers multiple real estate developers, retailers, city planners and many other companies to build better products and make better decisions.