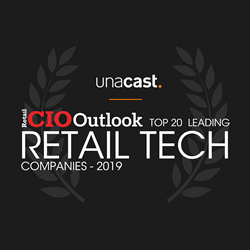 While retailers have a good understanding of what's happening inside the stores, we help them with what customers are doing outside the stores.
NEW YORK (PRWEB) January 23, 2020
Unacast, an industry leading location data and strategic insights company, has been recognized as one of the Top 20 Leading Retail Tech Companies of 2019. The award was created by Retail CIO Outlook Magazine to highlight companies at the forefront of the latest Retail Tech solutions and firms that are transforming the evolving retail business through their unique and innovative offerings. This award is well timed as Unacast has expanded to include retailers and retail real estate companies as a larger percentage of its client base.
As the Buy-Online-Pick-Up-in-Store (BOPIS) model continues to gain popularity for traditional brick and mortar stores, retailers are increasingly interested in understanding the buyer's journey both online and offline. Using location data and analytics, Unacast's flagship product, The Real World Graph®, helps brands better understand real world events and how to leverage their strategies around those trends.
"While retailers have a good understanding of what's happening inside the stores, we help them with what customers are doing outside the stores." says Thomas Walle, CEO and Co-Founder at Unacast. "Together, these give a unique and holistic view of the customer behavior that our retail clients see as a critical addition to their current in-store data assets."
Through The Real World Graph®, users can analyze insights around a specific local catchment area, including the number of visitors, travel patterns in residential and/or commercial stays, and demographics that are most likely to visit. Also included are demographic trends, capture rates, area traffic, and cross visitation behavior as well as benchmarking to brands, other venues, and competitors.
Heading into 2020, it's this kind of innovation that is leading the way at Unacast, as we focus on building a new global defining data set through The Real World Graph®.
In addition to The Real World Graph®, Unacast has also offered Pure Feeds and Activity Feeds to strategic partners that want to be closer to the data to make their own analysis or incorporate it with other data sets. Unacast also offers international data across Europe, Asia, South America, and Australia.
About Unacast
Unacast is an award-winning human mobility data company that harnesses anonymous device location data, map data, and strategic intelligence to tackle business challenges for the retail, real estate, tourism, transportation, and marketing industries. With its flagship product "The Real World Graph®", it provides innovative solutions and insights to operational challenges for companies of any size or shape. Unacast was founded in 2014 with offices in New York and Oslo, Norway. In 2019, Unacast was awarded the #1 small company to work for by Built In NYC and received Street Fights' Most Innovative Use of Geospatial Technology award.
About the Real World Graph®
The Real World Graph® is an interconnected system of data sets that understands human mobility in the physical world using a combination of map data, location data, and strategic insights. The Real World Graph® leverages a quality data set with the highest privacy standards and power multiple real estate developers, retailers, city planners and many other companies to build better products and make better decisions.
For more information:
https://www.unacast.com
Contact:
John Bobis
+1 (646) 300 0708
john.bobis(at)Unacast(dot)com