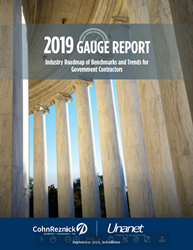 The yearly themes make the GAUGE a 'must have' for government contractors looking to grow and compete within our robust market.
DULLES, Va. (PRWEB) October 08, 2019
3rd Annual Report shows high degree of optimism in the industry
Dulles, Virginia, October 8, 2019 - In helping government contractors plan and strategize for the upcoming fiscal year, CohnReznick and Unanet have once again teamed up to conduct a government contracting industry benchmarking survey. The results of this survey have been compiled into the 2019 GAUGE Report which focuses on five major areas of contracting:

Government Contract Compliance- What type of DCAA audits should you be expecting in the future?
Accounting - What should you be expending by category as a % of revenue?
Utilization - How many FTEs do you have in each of your departments?
Growth – What is your win rate and are you bidding on the right projects?
Efficiencies – Are your overhead, G&A and fringe rates competitive?
With more than 1,200 contributors this year, representing a wide array of government contractors of all sizes, the 2019 Report is intended to provide valuable insider information for all size contractors. This year's edition is especially focused on internal controls and provides insight into how organizations can get started with and maintain internal controls that will grow with them. Establishing internal controls helps contractors safeguard assets, achieve strategic business objectives, protect confidential data, prevent fraud, and more. The GAUGE Report provides a wealth of data and benchmarking information that contractors can use to achieve these goals.
"Government contractors trust the GAUGE Report to provide them with insight and perspective, especially in the areas of overhead and wrap rates, number of FTEs to fuel the indirect teams, and maturity," commented Fran Craig, Founder of Unanet. "The yearly themes make the GAUGE a 'must have' for government contractors looking to grow and compete within our robust market."
Kristen Soles, Partner and CohnReznick Government Contracting Industry Leader, comments, "The 2019 GAUGE Report is a valuable resource to help government contractors position their organizations for growth, particularly as this year's findings show that organic growth is second among challenges for GovCons."
This year's report has some notable—and even some surprising—trends that make this year a unique year for the government contracting industry. 70% of survey respondents said they are optimistic about the current environment of government contracting, despite many of them being surveyed during the longest government shutdown in history.
Some of the results from this year's GAUGE survey also confirmed many common issues that have plagued contractors in the past. Increasing competition is still the number one challenge keeping executives awake at night.
Consulting the GAUGE Report during annual forecasting and budgeting process, can provide such useful information as:

How is Your Internal Audit Function Perceived?
8 Strategy Tips for Resource Management
4 Ways to Increase Company Value
Preparing A Government Technology Solutions Company For M&A
Click here to access the full report.
About Unanet
Over 1,200 professional services organizations trust Unanet's Cloud ERP platform to scale their businesses while drastically reducing G&A in a "Single Source of Truth". Unanet optimizes resource scheduling, budgeting & planning, skills management, time & expense reporting, purchasing, real-time project management analytics and dashboards, billing & revenue recognition, and GL, AP, AR, cost pool calculations, and indirect allocations. For more information visit http://www.Unanet.com.
About CohnReznick
CohnReznick LLP is one of the top accounting, tax, and advisory firms in the United States, combining the deep resources of a national firm with the hands-on, agile approach that today's dynamic business environment demands. With diverse industry expertise, the Firm provides companies with the insight and experience to help them break through and seize growth opportunities. The Firm, with origins dating back to 1919, is headquartered in New York, NY with 2,700 employees in offices nationwide. CohnReznick is a member of Nexia International, a global network of independent accountancy, tax, and business advisors. For more information, visit http://www.cohnreznick.com.
Media contact:
Richard Hayden
Senior Vice President of Marketing, Unanet
703-689-9581
rhayden@unanet.com