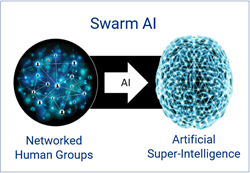 SAN FRANCISCO (PRWEB) October 11, 2019
Unanimous AI today announced that it has been awarded three new patents for innovations that amplify the intelligence of human groups. Modeled on the biological principle of Swarm Intelligence, the technology enables networked human teams to think together as Super-Intelligent systems.
The recently issued patents include:
US Patent 10,439,836: Systems and Methods for Hybrid Swarm Intelligence
US Patent 10,353,551: Methods and Systems for Modifying User Influence during a Collaborative Session of a real-time Collective Intelligence System
US Patent 10,416,666: Method and systems for collaborative control of a remote vehicle
Recently published studies have shown that by forming artificial swarms (i.e. Hive Minds), networked human groups can generate significantly more accurate predictions, decisions, and forecasts.
For example, in a recent study published in collaboration with Stanford University, small groups of doctors connected using Swarm AI technology were able to reduce their diagnostic errors by over 30%.
In another recent study, published in collaboration with California State University (CalPoly), business teams using Swarm AI increased their performance by over 20% on a standard intelligence test.
And in a study published as a collaboration between researchers at Unanimous AI and MIT, groups of financial analysts were able to amplify their accuracy in predicting financial markets by 36%.
About Unanimous AI
Unanimous AI builds technologies that amplify human intelligence using technologies modeled on the biological principle of Swarm Intelligence. Unanimous has recently launched Sportspicker AI, the world's first sports intelligence service that combines human insight with AI algorithms. #NSFFUNDED