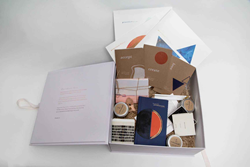 MALIBU, Calif. (PRWEB) January 08, 2020
Unbreakable announces the launch of its signature handcrafted healing kit, which provides a spiritual solution to restore well-being after a break-up. The method, consisting of three cumulative practices: Accept, Create, and Love, was developed by founder, Bonnie Lenore, during her divorce.
"Regardless of who left whom, a break-up turns your world upside down. The pain and shame that accompanies your every move is a tremendous weight to carry," said Lenore. "I searched for spiritual guidance to alleviate the stress of my marriage ending and realized there was no roadmap, community, or trusted results-driven practice to follow. It simply did not exist. As I expanded my personal spiritual practice, I developed new routines that supported my healing. Friends, suffering from break-ups, asked me to share my method -- it worked for them, too, and here we are today."
The Unbreakable practice supports healing from heartbreak by fostering the creation of new routines with the cumulative three-step practice. The products are designed specifically for the healing kit to guide someone in releasing a past relationship while having the courage to begin again. With just 15 minutes a day, people have seen a noticeable positive shift in only a few weeks. Lenore utilized her years of producing experience to bring together musicians, writers, healers, creators, and producers from around the world to contribute to the product line.
The Healing Kit includes over 20 handcrafted premium pieces and a lifetime membership to the Unbreakable private Community:

3 Guided Journals with close to 100 pages of prompts written by Lenore
Hardcover Morning After Affirmations book written by Singer/Songwriter Stephen Macartney
Intention Card written by Angelic Healer, Therese Sanderson
3 Guided Healing Meditations composed and performed by Leo Z with energy healing by Valerie Mya
Collage Kit designed by Cody Bond
3 Hand-poured soy candles by Amy Glassman
3 custom pencils and pencil sharpener in a leather pouch
Inner Compass Cards
Maison Louis Marie Discovery Perfume Set
Unbreakable keepsake box and custom linen bags
Private Online Community with ongoing support and daily practices
The Unbreakable healing kit can be purchased online for $299 with complimentary shipping in the United States. Furthering its commitment to sustainability and support of nature as our most natural healing agent, Unbreakable is partnered with 1% for the Planet.
About Unbreakable
Founded in Malibu, California, Unbreakable is committed to providing tools and support for those in search of a spiritual solution to heal after a break-up. For more information, visit http://www.unbreakablehealing.com.