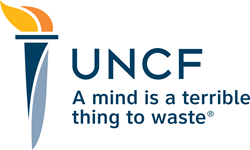 CHARLOTTE, N.C. (PRWEB) September 18, 2018
UNCF To Host Maya Angelou Women Who Lead Luncheon
Honoring the pioneers of the past and the innovators of tomorrow
CHARLOTTE (Sept. 18, 2018)—Join UNCF (United Negro College Fund) as the Charlotte community celebrates the 16th annual signature fundraising event named after UNCF's loyal friend and supporter, Dr. Maya Angelou. The luncheon will be held on Saturday, Sept. 29 at noon at the Westin Charlotte.
Raising funds for local students and the historically black colleges and universities (HBCUs) that support them, the luncheon honors a village of women whose footprint positively impacts their community.
This year's Maya Angelou Women Who Lead honorees include:
2018 UNCF Maya Angelou Elizabeth Ross Dargan Lifetime Achievement

Dorothy Counts Scoggins, retired civic leader/civil rights activist
2018 UNCF Maya Angelou Women Who Lead Honorees

Regina Heyward, senior vice president head of supplier diversity, Wells Fargo & Company
Tiffani Teachey, senior chemical process/systems engineer Westinghouse Electric Company
Good Friends Charlotte
2018 Young Leader Honoree

Kelly Davis, executive director for the Thomas Davis Defending Dreams Foundation (TDDDF)
More than 500 guests are scheduled to attend the event, including singer and actress Maria Howell and keynote speaker Shirley J. Hughes, chair of the board of trustees, Johnson C. Smith University. Tickets are $150 and include the "Morning Glory Affair" from 10 a.m.- noon featuring red carpet photos, music, networking and shopping from 14 different vendors. An elegant luncheon will follow, including one of the highlights of the fun-filled day, the HATitude competition.
With help from the Charlotte community, last year's luncheon raised more than $150,000 to send deserving African American North Carolina students to college and support local UNCF member-institutions, such as: Bennett College, Johnson C. Smith University, Livingstone College, Saint Augustine's University and Shaw University. This year's event promises to exceed those numbers with help from gold sponsor Wells Fargo; bronze sponsors Coca Cola, NASCAR, PNC Publix Supermarket Charities, EY, Food Lion, Fifth Third Bank, Extended Stay America, Ally, Green Lewis Charitable Fun, Geico, Xerox; and media sponsors Radio One and V101.9.
More information or how to purchase tickets and tables can be found here
Follow this event on social media: @uncfcharlotte #UNCFCharlotte
About UNCF
UNCF (United Negro College Fund) is the nation's largest and most effective minority education organization. To serve youth, the community and the nation, UNCF supports students' education and development through scholarships and other programs, strengthens its 37 member colleges and universities, and advocates for the importance of minority education and college readiness. UNCF institutions and other historically black colleges and universities are highly effective, awarding nearly 20 percent of African American baccalaureate degrees. UNCF awards more than $100 million in scholarships annually and administers more than 400 programs, including scholarship, internship and fellowship, mentoring, summer enrichment, and curriculum and faculty development programs. Its logo features the UNCF torch of leadership in education and its widely recognized motto, "A mind is a terrible thing to waste, but a wonderful thing to invest in."® Today, UNCF supports more than 60,000 students at more than 1,100 colleges and universities. Learn more at UNCF.org or for continuous news and updates, follow UNCF on Twitter @UNCF.