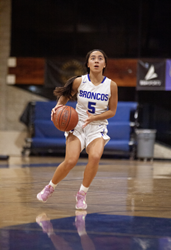 I think the biggest thing that separates me from other point guards is my pure hustle and tenacity that I have in order to make up for my lack in height. I'll put my everything into every game no matter the competition
LOS ANGELES (PRWEB) January 27, 2023
Showtime. Magic. Highlight-reel. Mamba Mentality. Marian Macatula.
If you haven't had the pleasure of watching Senior basketball guard Marian Macatula over the last four years, you've simply missed gravity-defying play on both ends of the basketball court. The star guard for the Rancho Bernardo High School women's basketball team continues to surprise individuals with her talent, year after year.
Whether it's her signature hesi at the three-point line or finishing at the rim — with a nice euro step and quick underhand layup, Macatula has separated herself from the pack. Her relentless pressure on the defensive end to her blazing speed is unrivaled.
"I think the biggest thing that separates me from other point guards is the pure hustle and tenacity that I have in order to make up for my lack in height. I'll put my everything into every game no matter the competition. While it is my last high school season, the team and I have our eyes set on reaching the CIF Division I championships and bringing that title home for the school," stated Marian Macatula in a recent interview.
In fact, the senior phenom has gained a reputation for being one of the most exciting players to watch in SoCal women's basketball. Not only has she scored a career-high 33 points but dazzles fans with last second buzzer beaters and half court shots. Helping to win a championship early in her high school career, Macatula has earned herself a mention alongside the best.
When asked about her teammates and how she got to this point in her career, Macatula shifted the conversation to her long-time teammates, "I would say my teammates Norah Park and Elise Tokushige inspire me. We've all played against each other since we were little, but finally we were able to share the court freshman year. Ever since then, we've all pushed each other and complemented one another on the court. We all play very scrappy defense, hustling for steals and tips."
Macatula's athleticism has resulted in highlight-reels on a nightly basis, even reaching her 1000th career point just a few weeks into her senior season. It's just the latest award in a stacked trophy case by the 3-sport athlete (Basketball, Field Hockey, and Lacrosse).
When asked about her 1000th point milestone, Macatula indicated, "After reaching such a huge accomplishment, the first feeling I had was very surreal. Reaching 1,000 points was a goal of mine ever since freshman year and finally accomplishing that while also keeping up my academics was extremely exciting. I also couldn't help but think about how grateful I was for everyone, especially my parents who helped me to continue to improve my game all 4 years and who continued supporting me through it all."
Grit and Grind Mentality —
While small schools often are underrepresented when it comes to the hype, Macatula tends to live up to it. With a flashy style of play, mixed with a grit-and-grind mentality, Macatula is truly a different breed.
And while she continues to shine on the basketball court, Macatula understands it is and always has been bigger than the game of basketball itself. Her commitment is not just to her family and teammates but to hard work. Marian is a special human being, one who every single person on the planet can take inspiration from.
She isn't just one of the best high school players — she's also doing unprecedented things off the court, including maintaining a 4.51 GPA and has her sights set on an Electrical Engineering degree.
Recruiting for the Underrated —
Players build their resumes with a combination of performance, potential, willingness to be a committed defender, game instincts, body language and coachability. But not every basketball player makes a significant jump on the scouting reports, no matter how talented they prove to be. College coaches typically don't just show up unless you play for a powerhouse program. So, what's next for Macatula?
"Playing collegiate basketball would be a bonus in applying to colleges. As a student athlete, I will always prioritize my education first but no matter where I go, I promised my dad if I don't receive an offer, I would at least try out as a walk-on. My parents have always been my biggest mentors. The most important thing they've taught me is making sure I always push myself to reach my fullest potential. It's helped me understand that whether you win or lose or make a mistake in a class, if you work your hardest, success will follow," stated Macatula.
When Macatula's motor and competitiveness is firing, there's not a more skilled and dynamic player in Southern California. Savage mode. Superstar. Hustle. The competitive spirit takes on a meaning of its own every time she steps on the floor. The superstar guard is certainly living up to expectations on her rise to the top. While impacting wins and hyping crowds across San Diego, Macatula meets all the criteria to be in the discussion for college recruiting. However, Macatula takes to the floor still undeclared heading into her final high school games.
More Information:
Marian Macatula
Rancho Bernardo High School
Class of 2023 / Point Guard / #5
View Highlight Reel