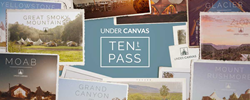 "TENt PASS provides our guests with even more opportunities to adventure and relax through glamping, bridging the gap between luxury and the great outdoors."
BOZEMAN, Mont. (PRWEB) November 01, 2018
Under Canvas, North America's premier glamping company, is excited to announce the Under Canvas TENt PASS. Similar to a season or annual pass, TENt PASS provides adventurous travelers with even more opportunities to get #OutsideTogether. The TENt PASS gives travelers the flexibility to spend ten nights in one tent, take over ten tents for one night or any combination in between. With camp locations near America's most iconic national parks and monuments, TENt PASS' provides unprecedented value, paying for itself in as few as six nights, extending adventurers and luxury aficionados time in the outdoors.
TENt PASS holders can curate the ultimate immersive glamping adventure at any Under Canvas location – including future camps – giving guests the ability to customize their own one-of-a-kind road trip to multiple camps. The ten-night pass can be used for booking consecutive nights or spread throughout the year. Nights can also be shared, so pass holders can create adventures for friends and family when traveling together.
"Under Canvas encourages everyone to spend more time outside together exploring the best that America has to offer," says CEO and co-founder, Sarah Dusek. "TENt PASS provides our guests with even more opportunities to adventure and relax in the through glamping, bridging the gap between luxury and the great outdoors."
Under Canvas TENt PASS privileges include Deluxe accommodations, complimentary breakfast at Embers restaurant (when available on site) as well as in tent coffee service delivered daily. TENt PASS also provides exclusive VIP amenities as well as complimentary upgrades to the best available tent type per stay, including Stargazers and Suites. Each safari-inspired tent includes amenities such as daily housekeeping and fresh towels, plush king-size beds with luxurious linens, en suite bathrooms and a wood burning stove for chilly nights.
Give or experience the gift of nature with ten unforgettable nights at Under Canvas locations including Yellowstone and Glacier in Montana; Moab and Zion in Utah; Mount Rushmore in South Dakota; Tucson at Tanque Verde Ranch and Grand Canyon in Arizona; and Great Smoky Mountains in Tennessee.
Under Canvas TENt PASS is available through December 24, 2019, in limited supply for $2,599.
Please visit tentpass.com for rules, restrictions and additional information or call 888-496-1148.
About Under Canvas:
Under Canvas, the fastest growing adventure-hospitality and events company in the U.S., offers luxurious glamping accommodations just minutes from America's most popular national parks. Inspired by the African safari experience, the founders set out to create an immersive outdoor escape that serves as a unique bridge between travel and nature while offering all the comforts of a hotel. Recognized as the "perfect glamping experience" by Vogue, Under Canvas operates locations in Yellowstone and Glacier in Montana; Moab and Zion in Utah; Mount Rushmore in South Dakota; Grand Canyon and Tucson in Arizona; and Great Smoky Mountains in Tennessee.
For more information, visit undercanvas.com