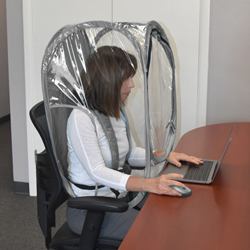 With 10-plus years' experience developing a wide range of portable, pop-up Pods, plus manufacturing capability and in-house product design, UTW is uniquely positioned to develop top-quality products which fit everchanging consumer needs and desires
CINCINNATI (PRWEB) July 16, 2020
Under the Weather®(UTW) Chief Executive Officer Rick Pescovitz announced the addition of the all-new ShieldPod™ to the company's lineup of Pods.
"Our newest COVID-19 product, the ShieldPod™, was designed originally to help protect healthcare workers (MediPod™) from possible COVID-19 exposure but it generated so much buzz and customer requests outside the healthcare industry that we modified the style to accommodate anyone looking for added peace of mind or practicing safe social distancing" adds Pescovitz.
The patent-pending design is a lightweight, protective barrier with a slim profile that pops open and folds flat in seconds. It's easy to wear, use and store, slips easily over the head with clear panels on three sides for 270° viewing. Padded, adjustable shoulder straps, a waist belt, raised front panel, large armholes on two sides and open bottom offer full range of movement and more options for hand placement whether you're sitting or walking around. The trim is a neutral dark gray.
"With 10-plus years' experience developing a wide range of portable, pop-up Pods, plus manufacturing capability and in-house product design, UTW is uniquely positioned to develop top-quality products which fit everchanging consumer needs and desires," said Kelly Mahan, UTW president. "We also have a legion of loyal brand advocates that helps us by testing our products and providing feedback which ensures the design and quality of our pods is top notch."
The potential use cases for the ShieldPod are endless, such as: Customer-facing retail employees; teachers; call center employees; taxi and ride-share drivers; church groups; public transportation employees; subway and train commuters; air travelers; workplace huddles; public servants; caregivers; nursing and retirement homes; urban dwellers; and more.
Like all UTW Pods, the ShieldPod uses one-piece wire frame construction, so it's flexible, pops open and folds down in seconds, with zero assembly required. ShieldPod wearers, and others around them, are protected in an instant.
Thanks to early rave reviews from product testers, including educators, checkout staff and transportation workers, the ShieldPod is in high demand. Affordably priced at $79.99 USD. It is currently being sold as a pre-order exclusively at UTWPods.com. Fulfillment for pre-orders is expected to begin mid-to-late July 2020.
About Under the Weather
The brand of choice for outdoor enthusiasts the world over, Under the Weather has been home to the original pop-up WeatherPod™ since it was established in 2010 in Cincinnati, Ohio. First to market, Under the Weather's mission is to provide innovative weather-protection solutions for backpackers, campers, sports parents, tailgating fans, music festival buffs and anyone determined to "Be There. Weather, or Not.™"
Under the Weather has been featured on ABC's "Shark Tank"; NBC's "Today" show; "The Ellen DeGeneres Show"; the "Rachael Ray Show"; Hallmark Channel's "Home & Family" and Weather Channel's "AMHQ: America's Morning Headquarters."
Visit UTWPods.com for more information. Stay connected with Under the Weather on Facebook (fb.me/UTWPods), Instagram (@UTWPods) and Twitter (@UTWPods).