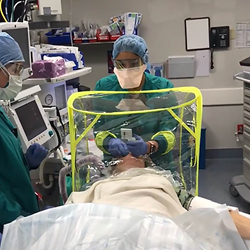 Our brand was created around developing a product to solve a problem and our company's growth is fueled by listening and evolving to meet customer's needs expeditiously. The Healthcare & Business line is not only mission-centric but is also a natural product extension for us.
CINCINNATI (PRWEB) May 07, 2020
Under the Weather (UTW) Chief Executive Officer and inventor of the original, pop-up WeatherPod™ Rick Pescovitz announced the release of four new products designed to protect medical professionals when interacting with COVID-19 patients.
"I watched what was happening around me and I'm always thinking about ideas for products that can help solve problems. Listening to news stories about medical professionals on the frontline not having adequate protection was alarming. I knew right away I could use existing patented designs as a basis for developing new products that can help protect healthcare and other employees on the frontline," said Pescovitz.
UTW's new Healthcare & Business product line includes the IntubationPod™, WoWPod™, MediPod™ and WalkingPod™ Pro. Each offer healthcare workers, and other professionals in work environments, protection from contamination when treating patients, including those with COVID-19.
"Few companies are capable of going from concept to finished, patent-pending products in less than a month," said Kelly Mahan, UTW President. "Our brand was created around developing a product to solve a problem and our company's growth is fueled by listening and evolving to meet customer's needs expeditiously. The Healthcare & Business line is not only mission-centric but is also a natural product extension for us.".
The IntubationPod is a portable pop-up enclosure which deploys in seconds and slips over the patient's head and shoulders. It serves as a shield between medical staff and patients during procedures involving the head and neck area by encapsulating potential aerosolized contagions and aiding in protecting healthcare workers from contaminant diffusion. With two elasticized armholes on the top and zippered windows on each side, the IntubationPod enables an entire medical team the ability to safely access a patient's head and neck area while remaining protected. Weighing less than one pound, the IntubationPod folds flat for easy storage and can be sanitized with germicidal disinfectants.
The WoWPod is a cover designed to protect workstations on wheels (WoW) used by medical and other workplace professionals. It can be used both inside and outside for additional protection.
"We heard from healthcare workers in New York City who were having to complete the admitting process outside as people stood in long lines at hospitals. Originally we were looking to donate our MyPod and WalkingPod products, but the more we learned, the more we realized this needed to be a new Pod design," Pescovitz said of the WoWPod.
Not only does the WoWPod protect laptops and medical equipment from the elements, but it also prevents germs from spreading to frequently used equipment. The WoWPod is ideal for outdoor medical facilities, such as field medical stations and medical ships.
The MediPod is a wearable Pod for doctors and nurses to wear when treating contagious patients in the ICU. Featuring backpack straps, the MediPod pops open and slips on in seconds, is clear on all sides, and provides additional protection from contagions when combined with standard personal protective equipment. Flexible and lightweight, the MediPod allows medical staff to roam freely without obstruction.
Like the MediPod, the WalkingPod Pro pops open and slips on over the upper body quickly and easily. The WalkingPod Pro is ideal for employees working outdoors, such as medical workers at COVID-19 test sites, curbside delivery, parking lot attendants, or anyone looking for added protection while attending to errands or assisting others. The WalkingPod Pro is the next generation of Under the Weather's popular WalkingPod. Upgraded features of the WalkingPod Pro include additional headroom, elasticized armholes, reflective striping and a clear back panel for 360-degree views.
Rounding out the product lineup for the Healthcare & Business collection is the original Walking Pod and the DeskPod™, a Pod meant to provide a safe space from germs for those sitting in a chair or at a desk. All Healthcare & Business Pods are designed to be reusable and can be sanitized with disposable germicidal wipes.
The IntubationPod, WalkingPod Pro and DeskPod are available for purchase now. Inventory for the fast-selling original WalkingPod is available for pre-order now, while the WoWPod and MediPod will be available for pre-orders in mid-to-late May. UTW Healthcare & Business products are sold exclusively at UTWpods.com.
Under the Weather Donation Requests
Healthcare & Business product inquiries and donation requests can be submitted at UTWpods.com.
About Under the Weather
The brand of choice for outdoor enthusiasts the world over, Under the Weather has been home to the original pop-up WeatherPod™ since it was established in 2010 in Cincinnati, Ohio. First to market, Under the Weather's mission is to provide innovative weather-protection solutions for backpackers, campers, sports parents, tailgating fans, music festival buffs and anyone determined to "Be There. Weather, or Not.™"
Under the Weather has been featured on ABC's "Shark Tank"; NBC's "Today" show; "The Ellen DeGeneres Show"; the "Rachael Ray Show"; Hallmark Channel's "Home & Family" and Weather Channel's "AMHQ: America's Morning Headquarters."
Visit UTWpods.com for more information. Stay connected with Under the Weather on Facebook (fb.me/UTWpods), Instagram (@UTWpods) and Twitter (@UTWpods).