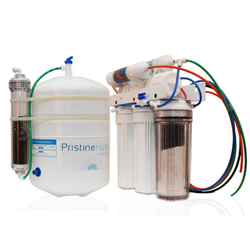 We Are the Industry Leader in Pristine Under Counter Water Systems
Dallas, Texas (PRWEB) May 16, 2016
PristineHydro™ heads into Dallas, Texas for their next campaign move offering the Under Counter Water System (http://www.pristinewaterfilters.com/). This campaign effort is part of a coast to coast effort in bringing awareness to poor water quality what can be done about it.
Over two thirds of Earth's surface is covered by water; less than a third is taken up by land. As Earth's population continues to grow, people are putting ever-increasing pressure on the planet's water resources. In a sense, our oceans, rivers, and other inland waters are being "squeezed" by human activities—not so they take up less room, but so their quality is reduced. Poorer water quality means water pollution.
We know that pollution is a human problem because it is a relatively recent development in the planet's history: before the 19th century Industrial Revolution, people lived more in harmony with their immediate environment. As industrialization has spread around the globe, so the problem of pollution has spread with it.
When Earth's population was much smaller, no one believed pollution would ever present a serious problem. It was once popularly believed that the oceans were far too big to pollute. Today, with around 7 billion people on the planet, it has become apparent that there are limits. Pollution is one of the signs that humans have exceeded those limits.
There are many more contaminants found in the water that is being consumed. Learn more about PristineHydro's™ 10 Stage Process for their Under Counter Water System (http://shop.pristinewaterfilters.com/) and begin removing these harmful contaminants from your drinking water.

Stage One - 5 Micron Filter
Stage Two - KDF
Stage Three - Hydroxy Apatite
Stage Four - Coconut Based, Acid-Washed, Surface-Enhanced Activated Carbon
Stage Five - Reverse Osmosis
Stage Six and Seven - Dual Deionization Cartridges
Stage Eight - Re-Mineralization Cartridge
Stage Nine - Coconut Carbon Filter
Stage Ten - Vortex / Reprogramming / Recharging
Pristine Water Filters delivers to the following geographical areas:
Alabama, Alaska, Arizona, Arkansas, California, Colorado, Connecticut, Delaware, District of Columbia, Florida, Georgia, Idaho, Illinois, Indiana, Iowa, Kansas, Kentucky, Louisiana, Maine, Maryland, Massachusetts, Michigan, Minnesota, Mississippi, Missouri, Montana, Nebraska, Nevada, New Hampshire, New Jersey, New Mexico, New York, North Carolina, North Dakota, Ohio, Oklahoma, Oregon, Pennsylvania, Rhode Island, South Carolina, South Dakota, Tennessee,Texas, Utah, Vermont, Virginia, Washington, Washington DC, West Virginia, Wisconsin, Wyoming, Canada, Europe, and virtually anywhere on the planet.
PristineHydro™ (https://www.youtube.com/watch?v=A4j4uHquBPs) has also been featured on The Discovery Channel Via Newswatch Tv.
PristineHydro™ delivers water filters for the home and businesses making healthy water accessible to all at cost levels and form factors. The professionals at PristineHydro™ are highly informed regarding the history of water and how these products can enhance the consumer's life.
It is no wonder so many professional athletes and health enthusiasts are turning to PristineHydro™ for their hydration needs.
For more information please visit http://www.pristinewaterfilters.com or by calling toll free (888) 240-1175