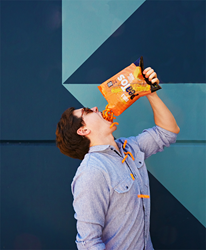 "If you try PeaTos, and you don't think they taste better - we will buy you a bag of Cheetos!" exclaims PeaTos CEO, Nick Desai.
LOS ANGELES (PRWEB) January 16, 2020
Super Bowl Sunday is America's second-largest food consumption day, with an astonishing 90% of people planning to have a variety of "junk food" style snacks on hand. For decades, salty snack bowls have been dominated by the Goliath of snack foods, Frito-Lay. This year is no different. As an official Super Bowl Sponsor, Frito-Lay, announces they are making a considerable effort to bring Cheetos and Doritos back to the Super Bowl parties.
In recent years, the trend toward better-for-eating and cleaner ingredients inspired a slew of alternative snacking options, but a vast majority of these have stayed niche products and brands with little hope of knocking the reigning champ from the spotlight. The biggest factor impeding many of the better-for-you options is the lack of taste appeal.
Now, a rapidly growing Los Angeles based upstart may be the proverbial David, ready to best the Goliath, and claim the title of Snack Bowl Champion! What's in David's slingshot? Peas! That's right. A pea just might crush this GIANT. Malcolm Gladwell would love it, as he knows all giants have a blind spot and underestimate the underdog.
PeaTos™ has developed a platform of "junk food" style salty snacks made from Peas, but taste as good or better than your favorite "junk food" snack Brand like Cheetos and Funyuns! And this little Los Angeles based company is gunning for the shot to not only be the snack of choice for Super Bowl Sunday, but the "junk food" style snack for the new generation of snackers.
PeaTos were created to bring fans of snacking the same qualities (taste, texture, and crunch) as they would find in their favorite "junk food" brand. The secret focused on swapping out the processed cornmeal base and artificial ingredients for peas (and lentils) and natural seasoning and colors, but still delivering all the crunchy texture and cravable taste of "junk food" salty snacks --right down to the finger dust.
And that's why PeaTos, having launched in early 2018 with a product line that competes with Cheetos, has seen exploding sales. And fans are raving about them. PeaTos, a subsidiary of Snack It Forward LLC, are made from peas and contain 2X the protein (4 grams vs. 2 grams) and 3X the fiber (3 grams vs. 1 gram) per serving than their rivals like Cheetos and Funyuns, and have no artificial ingredients. In October of 2019, they launched an onion style Ring Snacks line reminiscent of Funyuns. And plans are underway to bring PeaTos fans additional analogs of more familiar products soon.
Salty snacks are a 21 billion dollar category in the United States. Frito-Lay has been the dynasty for decades, with a staggering 92% brand awareness and 50% household penetration. Through an extensive Direct Store Delivery system they virtually control an entire supermarket aisle. It is very difficult and very challenging to compete with them and those who have tried have failed. But PeaTos is confident their patent pending innovation is what consumers are seeking.
CEO Nick Desai is willing to bet on it. "If you try PeaTos, and you don't think they taste better - we will buy you a bag of Cheetos!" exclaims Desai. "Better-for-you is boring and doesn't taste very good," says Desai, "we set out to compete with the best! The stuff I grew up on; Cheetos, Funyuns, all of them. When I open a bag to snack, I want 'junk food' satisfaction --and that's what PeaTos delivers. But we did it using natural ingredients and traded out the base of corn for peas."
PeaTos can be found in the Produce section of grocery stores, such as Kroger and Safeway nationwide, instead of the Snack aisle. "We chose to partner with the Produce section since it can be extremely challenging for snack brands to go up against Frito Lay in the traditional snack aisle." Or you can order them directly from Amazon. Whether you're ordering them to stay at home and enjoy the game or to bring the next big thing in snacking to someone else's home, they're simply amazing and you will never believe they are made from Peas.
Super Bowl Sunday generates the highest retail sale for snacks at grocery stores across the country. Desai takes this challenge seriously as he anticipates their Champion Season this Super Bowl. "We've turned the category on its head with disruptive innovation - similar to when the smartphone replaced the flip phone."
Other Fun Super Bowl Snacking Factoids:
90% of people plan to buy at least one snack for the Super Bowl
80% plan to have or potato chips on hand for the Super Bowl
Millennials love snacking and can't get through the day without them
Millennials use snacks as meal replacements, but still, care about staying fit
Roseann Hylemon made the switch as a consumer after tasting a bag of PeaTos Classic Cheese. She says, "I can't believe these are made from peas! I wouldn't be able to tell the difference. PeaTos are absolutely delicious with all the crunchy goodness and flavor I expect in a snack. The fact that they're better for me is a huge bonus. I definitely feel good about serving them up to friends during my Super Bowl party this year."
So, go ahead and satisfy your snack cravings on Super Bowl Sunday.
You might say PeaTos scores the final touchdown and wins the Super Bowl of Snacks rivalry.
###
References:
Cornil, Y., & Chandon, P. (2013). From fan to fat? Vicarious losing increases unhealthy eating, but self-affirmation is an effective remedy. Psychological science, 24(10), 1936-1946.