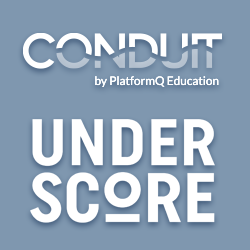 NEEDHAM, Mass. and CHARLOTTE, N.C. (PRWEB) September 21, 2020
PlatformQ Education, the leading developer of virtual engagement strategies and software and Underscore, the world's first Slate Platinum Preferred Partner, announce a strategic partnership to provide data and reporting integration support, powered by Underscore, to institutions leveraging the Conduit virtual engagement platform. This partnership provides education institutions with seamless access to enhanced webcasting and chat solutions for audience engagement while leveraging the industry-leading Slate CRM platform.
"Slate continues to separate itself from the pack as the leading CRM platform for higher education. At a time when virtualizing the student recruitment and engagement process is paramount to long-term success; the ability to leverage Conduit's webcasting, streaming and live chat tools to power continuous engagement while concurrently managing data, communications and reporting in Slate will be critical to the student experience." said Gil Rogers, Executive Vice President at PlatformQ Education. Rogers continued, "Our new partnership with Underscore ensures the rapidly growing number of institutions leveraging Conduit and Slate can more easily use both platforms together to maximize efficiency, results and outcomes."
Underscore and PlatformQ Education will collaborate to develop seamless reporting and analytics for the impact of virtual events hosted on Conduit within the Slate CRM; combining Underscore's leading expertise in Slate CRM strategy with PlatformQ Education's focus on virtual event strategy, planning and execution.
"As live streaming and virtual events have replaced open houses and campus visits, maintaining authentic and meaningful engagement with students is more important than ever. That is why we are so excited to be partnering with such an innovative company as PlatformQ Education," Scott Novak, CEO of Underscore said. "By combining Underscore's Slate expertise, creative strategy, and data analysis with PlatformQ's webcasting and live chat technologies, we can offer seamless virtual engagement solutions to students across the country, and a wealth of actionable data to the institutions that we serve."
Current PlatformQ Education clients using Slate CRM and Underscore clients will receive priority access to this implementation beginning after the 2020 Virtual NACAC Conference.
To learn more about PlatformQ Education and the Conduit engagement solution visit http://www.platformqedu.com
To learn more about Underscore and their Slate development and implementation services visit http://www.underscorehighered.com
About PlatformQ Education
PlatformQ Education helps colleges and universities virtualize their online engagement strategies. With its suite of products and managed services, including Conduit, Campus Connect live chat, global SMS and email automation, PlatformQ Education enables institutions to meaningfully engage with students, parents, and counselors at every stage of the engagement process. Whether the goal is to increase applications or influence accepted students' decisions, or reach and engage alumni, hundreds of institutions rely on PlatformQ Education to support their conversion and yield goals every day.
About Underscore
As the country's largest dedicated Slate development and optimization company, Underscore's mission is to transform the enrollment landscape by leveraging the power of Slate. Backed by decades of experience, Underscore's team of higher education professionals has worked with more than 60 schools across 30 states to help optimize their Slate instances. Underscore's services include Slate implementation, student search marketing and enrollment communications, enrollment strategy, applications and portals, and personalized training.